Grilled Ribeye Steak with Onion Blue Cheese Sauce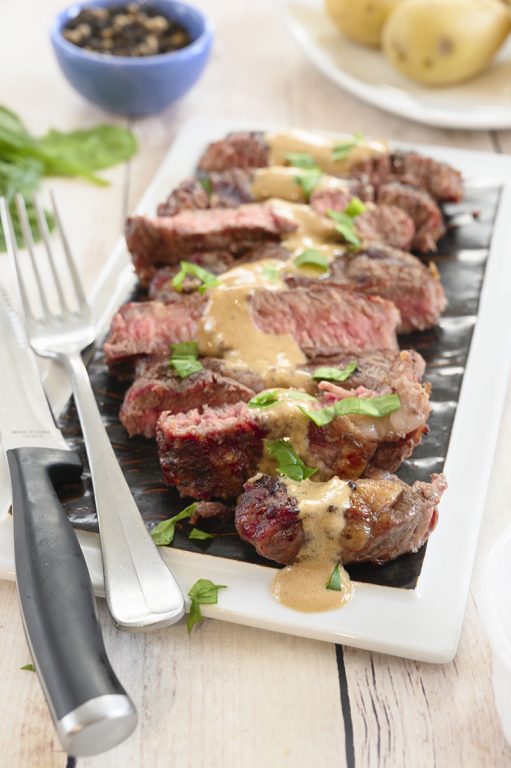 Recipe type:
Dinner, Main Course
4 Certified Angus Beef® ribeye steaks (about 5 ounces each)
Salt & pepper
1 stick unsalted butter (1/2 cup), softened to room temperature
1 large yellow onion, sliced
1 cup heavy cream
4 tablespoons Worcestershire sauce
¾ cup crumbled blue cheese
Preheat the grill to a high heat.
Season your steaks with salt and pepper and rub both sides of the steaks generously with about ½ stick of the butter.
Grill the steaks until medium-rare (or to your liking), approx. 3-4 minutes per side, and then remove from the heat, tent with foil, and keep warm. (You can also saute them in a skillet or grill pan over medium-high heat if you don't have a grill or weather doesn't permit).
Melt the remaining ½ stick of butter in a large skillet over medium-high heat; saute the onions in butter until slightly browned and softened, 5-6 minutes.
Slowly pour in the cream, a dash of salt and pepper and Worcestershire sauce.
Allow this mixture to bubble up, then add the blue cheese and stir together until melted, adding more pepper or Worcestershire sauce, if needed.
Transfer the steaks to plates and spoon the sauce over the top (or dip in the sauce). Enjoy!
Recipe by
Wishes and Dishes
at https://wishesndishes.com/grilled-ribeye-steak-with-onion-blue-cheese-sauce/