Salted Honey Pie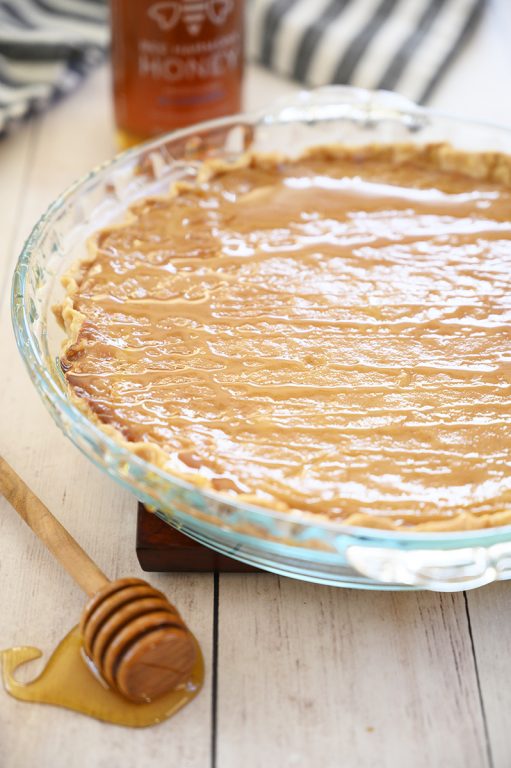 1 homemade or store-bought pie crust
2 cup whole milk
1 cup heavy cream
3 large eggs
½ cup Bee Harmony Honey
⅓ cup brown sugar, packed
⅓ cup granulated sugar
4 tablespoons cornstarch
¼ teaspoon nutmeg
1 teaspoon vanilla extract
pinch of salt
extra honey for drizzling on top, optional
flaked or sea salt, for finishing
Make your pie crust according to the recipe and chill for at least 1 hour (if homemade).
Preheat the oven to 350ºF.
If making your own crust, lightly flour your surface and roll the pie crust to fit a 9-inch glass pie dish. Place gently in pie dish; trim off any excess along the edges.
Flute the edges of crust with fingertips. Prick the bottom of the crust with a fork.
Bake for 20-25 minutes.
While crust is baking, heat the milk and cream in a medium saucepan over medium-low heat just until steaming and remove from heat.
Whisk the eggs, honey, both sugars, cornstarch, nutmeg, vanilla, and salt together in a separate mixing bowl.
Slowly drizzle the warm milk mixture into the egg mixture while whisking continuously.
Return the mixture to the saucepan and cook over medium-low heat, stirring constantly with a wooden spoon until the custard thickens and adheres to the spoon, about 7-8 minutes.
Turn the oven temperature up to 375°F.
Pour the thickened custard through a fine-mesh sieve into the hot pie crust. Use wooden spoon to mix it and to help work it through.
Bake for an additional 13-15 minutes until the edges, filling is golden, are set but the center remains slightly jiggly/wobbly when shaken.
Cool completely on a wire rack before slicing so it firms up.
Serve warm or refrigerate until ready to serve.
Sprinkle with flakey sea salt on top, to taste (optional).
You can also top with whipped cream and a drizzle of honey, if desired.