Cheeseburger Flatbread Melts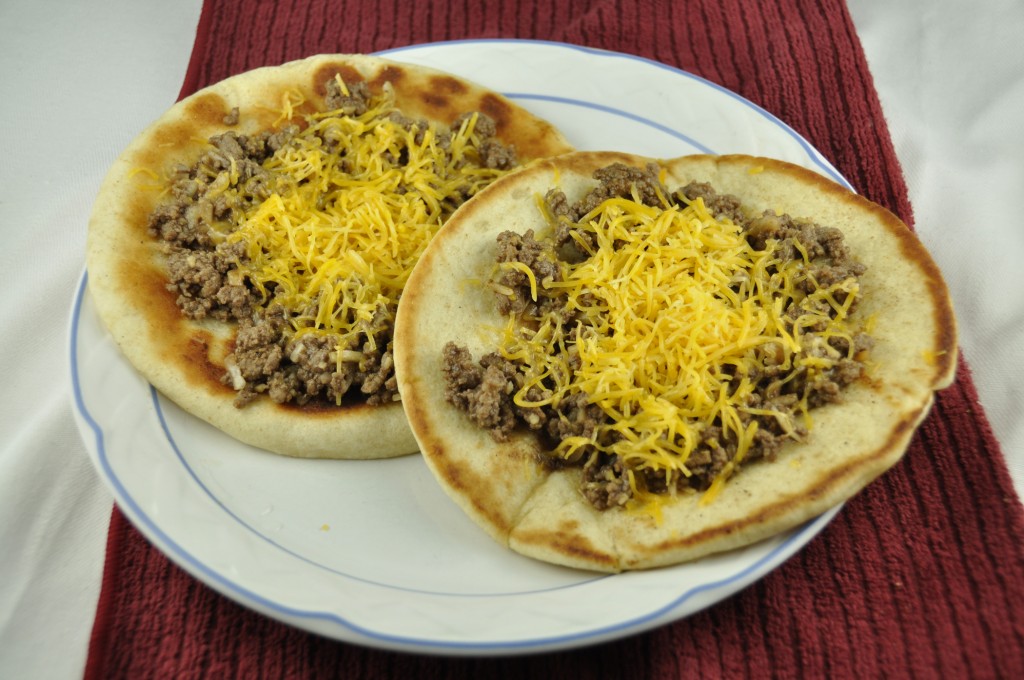 ½ lb lean ground beef, browned and drained
¼ cup water
½ tbsp apple cider vinegar
1 pkg dry onion soup mix
¼ cup ketchup
1 tbsp mustard
1 garlic clove, minced
2 tablespoons canola or vegetable oil
11 oz thin crust pizza dough (can use store bought flatbreads from the bread aisle)
1 cup shredded sharp cheddar cheese
Brown ground beef in a skillet until no longer pink and drain.
Add water, vinegar, onion soup mix, ketchup, mustard and garlic.
Stir to combine and simmer over low heat.
Meanwhile, heat 2 tbsp canola or vegetable oil over medium heat in a large skillet.
Divide the pizza dough (if using) into six equal portions and roll into a round, tortilla-like shape (if using store bought flatbreads, skip to directions below).
Pan fry the dough for one minute on each side or until golden brown and bubbly. Remove to a paper towel-lined plate to drain. Top with beef mixture and shredded cheese. Serve warm.
For store bought flatbreads: Heat them in microwave until warm or brush both sides of bread with oil and place into an ungreased skillet over medium-high heat on one side for about 10 seconds (watch so it's not burning) . Flip the bread with the tongs and cook on the reverse side for another 10 seconds or until the bread becomes just soft and warm.
Recipe by
Wishes and Dishes
at https://wishesndishes.com/cheeseburger-flatbread-melts/