Cookie Dough Bread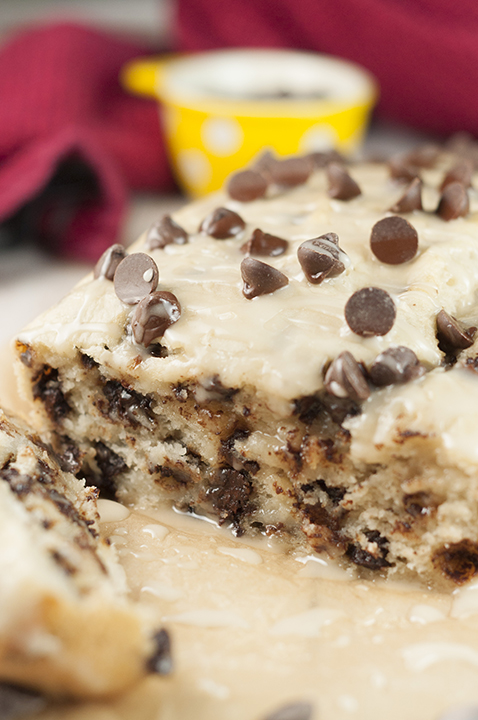 Recipe type:
Dessert, Breakfast
Two 5 oz. containers of Vanilla Greek Yogurt*
1½ cups Self Rising Four
½ cup Sour Cream*
½ cup Sugar
1½ cups Chocolate Chips + ⅓ cup for the topping
1 TBSP Vanilla Extract
1 cup Powdered Sugar
1 TBSP Vanilla Extract
1-2 tsp Milk or Heavy Cream (can use non dairy milk)
Spray a bread loaf pan and set aside.
Preheat oven to 350 degrees.
In a medium mixing bowl combine the Flour, Sour Cream, Sugar, Yogurt, Vanilla and the Chocolate Chips, reserving the extra ⅓ cup of the Chocolate Chips for the topping later on. Mix well.
Pour mixture into greased loaf pan and bake at 350 degrees for 45 minutes to one hour. Check at 45 minutes. Bake until toothpick or knife inserted into the center of the loaf comes out clean.
Let cool completely. Flip it onto a wire rack to finish cooling or place directly on your serving plate.
While the bread is baking, make the glaze.
Mix together the powdered sugar, vanilla, and milk/heavy cream (add milk a little at a time so it doesn't turn out too watery).
Pour glaze over the cooled bread. Add chocolate chips on top. Enjoy!