Philly Cheesesteak Pasta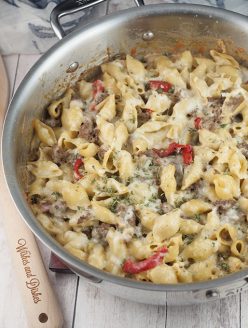 ½ pound small shells
32 ounces beef stock + 32 ounces water
2 TBSP butter
3 garlic cloves
1 pound ground beef
8 ounces cream cheese, cubed
2 bell pepper (one green, one red), diced
½ yellow onion diced
½ cup reserved cooking liquid from noodles
1 cup shredded mozzarella
sliced provolone
Preheat your oven to 350 degrees.
Combine the beef stock with 32 ounces of water and cook the shells in a large pot to al dente in this liquid.
Drain noodles, save ½ cup of liquid.
Melt the butter in skillet, cook the garlic clove for thirty seconds being careful not to let it burn, then add the bell pepper and onion and cook about 5 minute or until translucent.
Add in the ground beef, season with salt and pepper, and cook until beef is no longer pink.
Mix in the cream cheese until melted - a minute or two.
Stir in the reserved cooking liquid from the noodles, pasta, and shredded mozzarella.
Top with sliced provolone and pop in the oven to melt if your skillet is oven-proof.
If your skillet is NOT oven-proof, transfer mixture to a large greased baking dish and topwith the provolone cheese.
Bake for 20 to 25 minutes or until the provolone is completely melted. Enjoy!