Baked Honey Sesame Chicken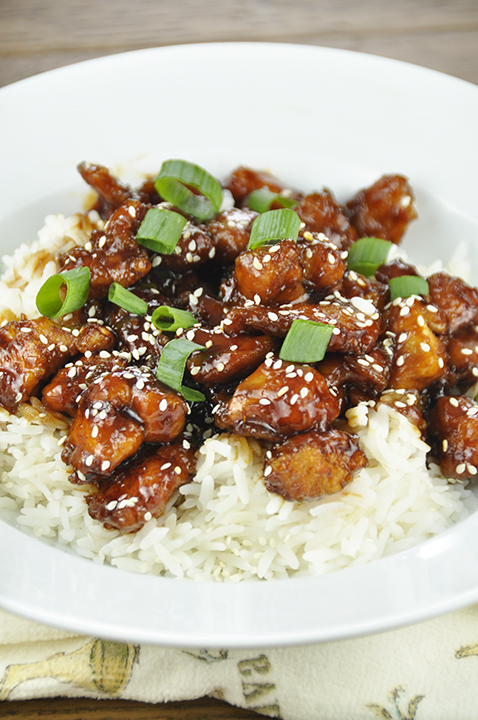 4 boneless, skinless chicken breasts
1.5 cup cornstarch
4 eggs
pinch of salt and pepper
¼ cup canola oil
1 cup honey
1 cup soy sauce
½ cup ketchup
½ cup dark brown sugar
½ cup rice wine vinegar
1 tbsp sesame oil
2 tsp minced garlic
1 tbsp cornstarch
toasted sesame seeds, for garnish
Preheat oven to 350 degrees. Cut up chicken breasts into bite-sized pieces and season with salt and pepper.
Place cornstarch in one bowl and slightly beaten eggs in another bowl. Dredge chicken into cornstarch; coat in egg mixture after that.
Heat canola oil in a large skillet over medium-high heat and cook chicken. Transfer the chicken to a large (I used a 9 x 13) lightly greased glass baking dish.
In another mixing bowl, combine honey, soy sauce, ketchup, brown sugar, rice wine vinegar, sesame oil, minced garlic, and 1 tbsp cornstarch to make the sauce for the chicken.
Pour sauce over chicken and bake for out 40 minutes or until chicken is done, stirring every 15 minutes or so.
Sprinkle toasted sesame seeds on top.
Serve it over rice with a side of steamed veggies!
Recipe by
Wishes and Dishes
at https://wishesndishes.com/baked-honey-sesame-chicken/