Authentic Italian Pasta Carbonara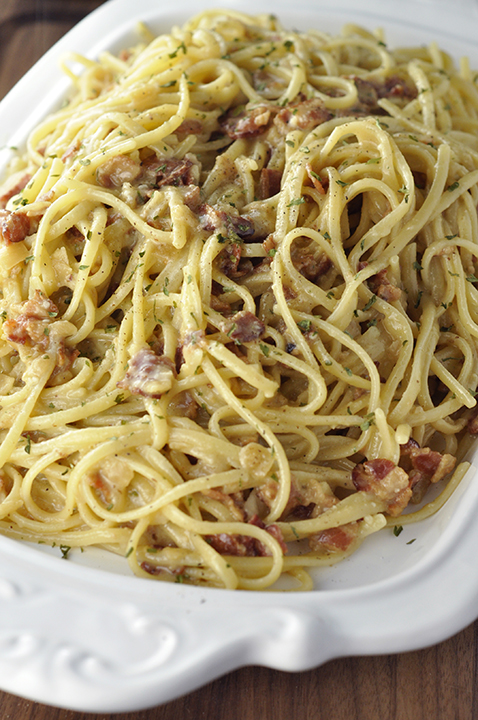 1 pound Bacon
1 pound Linguine/Fettucine/Spaghetti Pasta
8 Garlic Cloves, minced
1 whole Large Onion
1 cup White Wine (can use chicken stock instead)
5 whole Eggs
1 cup Chicken Stock
1-1/2 cup Parmesan or Pecorino Romano Cheese, freshly grated is best
1 bunch Fresh Parsley, chopped
½ stick (1/4 cup) Butter
1 Tablespoon Black Pepper
Slice up 1 pound of bacon into pieces about one inch wide. Toss into hot stainless steel pan. Cook until browned and crisp.
While the bacon's cooking, boil a large pot of salted water on the stove. Once boiling, add your pasta and cook until al dente.
Chop the onion. When the bacon is cooked, scoop it out with a slotted spoon and set it onto a plate lined with a paper towel. Keep bacon grease in skillet - you'll need it later.
Transfer the diced onions into the bacon grease. Give the onions a quick stir and let them cook down over a medium-high heat for a couple of minutes.
After the onions have cooked for a couple of minutes, throw in the minced garlic. Watch closely and stir to prevent burning. After the onion and garlic have cooked for another couple of minutes, remove from the pan with a slotted spoon. Discard the bacon grease at this time.
Place the pan back on high heat. Pour in the white wine (or chicken stock). Whisk until pan is deglazed/brown bits have come off of the bottom of the pan.
Add 1 cup of chicken stock. Return bacon, onion and garlic back to the pan. Let simmer over medium heat.
Crack eggs into a large bowl. Add most of the cheese, and chopped parsley, adding it into the eggs as well. Leave a little cheese and parsley out for a garnish later. Mix well with a fork.
Drain pasta. Move quickly so the pasta stays hot. Add the pasta to the egg mixture and then add the bacon/onion mixture.
Add your butter in there. Mix it all together well.
Add pepper, more or less to taste. Garnish with Parmesan and parsley. Enjoy!
Recipe by
Wishes and Dishes
at https://wishesndishes.com/authentic-italian-pasta-carbonara/