Skinny Thai Peanut Chicken Meatballs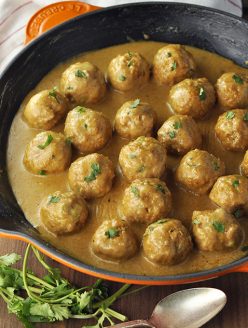 1 lb ground chicken
4 green onions, chopped small
¼ cup chopped fresh cilantro
1 tbsp fish sauce
1 tbsp red curry paste
1 cup breadcrumbs (white or whole wheat)
1 egg
Salt and pepper, to taste
1 tbsp peanut oil
1 tbsp red curry paste
1 can coconut milk (size: 398 ml)
3 tbsp creamy peanut butter
Salt and pepper, to taste
2 tbsp brown sugar
pinch of crushed red pepper (optional)
Preheat oven to 375 F degrees. Place parchment paper over a baking sheet.
Mix all the ingredients for the meatballs together well in a mixing bowl.
Form the meatballs into 1-2 inch balls. Place meatballs on prepared baking sheet and bake for about 30 minutes OR until done.
While meatballs are baking, make the sauce. Heat the oil in a medium sauce pan or skillet.
Add the red curry paste and cook for a couple minutes. Put in the remaining ingredients to same pan, stirring occasionally, and cook for about 5 minutes.
Place meatballs back to sauce and toss to coat them with sauce. Garnish with fresh cilantro for color.
Recipe by
Wishes and Dishes
at https://wishesndishes.com/skinny-thai-peanut-chicken-meatballs/