Copycat 1 Hour Cinnabon Cinnamon Rolls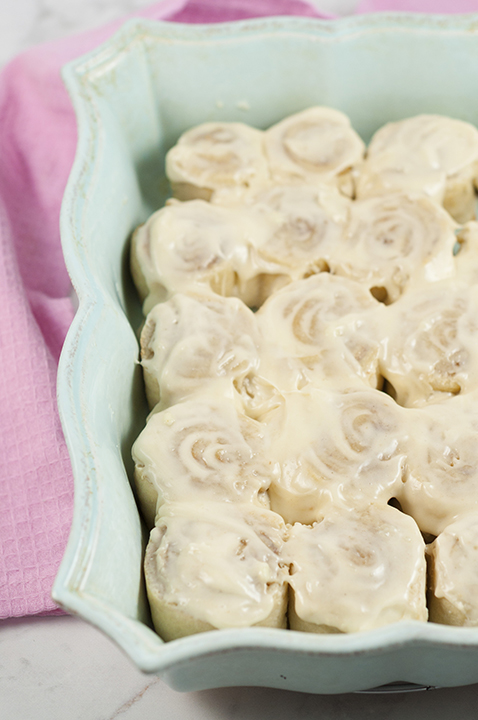 Recipe type:
Brunch, Breakfast
1 cup warm milk (about 110 degrees F)
4½ teaspoons fasts-acting active dry yeast
½ cup granulated/white sugar
1 teaspoon salt
1 egg
⅓ cup vegetable oil
4 cups all purpose flour, plus more for rolling dough
For the filling:
⅓ cup softened salted butter
1 cup packed light brown sugar
2 and ½ tablespoons ground cinnamon
2 oz. cream cheese, softened to room temperature
¼ cup salted butter, softened to room temperature
1 teaspoon vanilla extract
½ tablespoon corn syrup
½ teaspoon fresh lemon juice
1½ cups powdered sugar
In a mixing bowl, stir warm milk, yeast and 1 tablespoon of the granulated sugar together until yeast is dissolved; stir, let sit for 5 minutes or until slightly bubbly.
Using the bowl of astand mixer (or use hand mixer and bowl), add 3 cups of the flour, the remaining sugar and salt.
Pour yeast mixture into bowl with the dry ingredients. Keep mixer on low setting.
Add in the egg and the oil. Scrape edges of bowl with spatula periodically.
Knead for 5 minutes on LOW. You can add a couple more tablespoons of flour at a time (that 4th cup we didn't use above) if dough seems to sticky, until it starts pulling away from the bowl and forming a ball (a little sticky is fine). Let dough sit for about 5 minutes.
Preheat oven to 350 degrees. Line a 13x9 baking pan with with parchment paper, spray lightly with nonstick cooking spray;set aside.
Sprinkle counter with flour and rolldough to be about 18x24 (a little smaller is fine).
Spread the softened butter evenly over dough, going to all eldges.
Sprinkle brown sugar and cinnamon mixture onto dough and spread evenly with your hands.
Roll the dough up into a tight, even log, finishing with the plain dough; seal edge together.
Cut off the uneven ends (if necessary) so the log is uniform.
Slice your rolls into 1½ inch rounds and place in pan.
Bake about 20 minutes or until tops start to brown lightly.
While the rolls are baking, whip cream cheese and butter together in a mixing bowl.
Stir in vanilla, corn syrup and lemon juice, scraping down sides as necessary.
Slowly pour in powdered sugar and stir until it starts to incorporate.
Mix on high for 5 minutes or until frosting is the correct consistency that you desire.
Frost slightly warm rolls with half the frosting (it will melt into rolls slightly). Frost again with remaining frosting right before serving. Serve warm!
Recipe by
Wishes and Dishes
at https://wishesndishes.com/copycat-1-hour-cinnabon-cinnamon-rolls/