Maple Mustard Bacon Chicken Skillet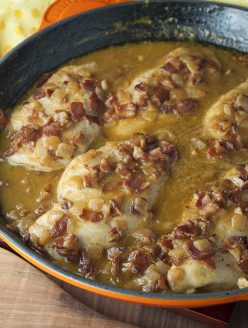 ⅓ cup Dijon mustard
½ teaspoon paprika
¼ teaspoon salt
⅛ teaspoon black pepper
8-10 strips bacon uncooked, chopped
1 cup onion, diced
1 tablespoon olive oil
2 lb boneless, skinless chicken breasts
2 cups chicken stock
¼ cup maple syrup
Mix together the Dijon mustard, paprika, salt and pepper in a small mixing bowl; combine to make a paste.
Spread this paste onto each side of chicken breasts. Set aside.
In a large skillet, cook your chopped bacon on medium-high heat just until browned. Remove wiht a slotted spoon/transfer to a plate, but don't drain the bacon grease.
To the same skillet with the bacon fat, add chopped onion and cook until translucent. Remove to the same plate where you put the bacon.
Add the olive oil to the hot skillet. Cook your coated chicken breast on medium heat, about 2 minutes on each side. The chicken will not be done yet - you will continue cooking it in the next step. Remove chicken to a plate.
To the same skillet, add your chicken stock and maple syrup, bring to boil, scraping the bottom of the pan to get that flavor into the chicken stock mixture. Add bacon and onions back to skillet and mix together.
Add the chicken breast back to the same skillet, reduce the heat to low-medium and cook for about 15-20 minutes, turning chicken once for even cooking, until chicken breast is fully cooked and no longer pink in the center.
Enjoy!
Recipe by
Wishes and Dishes
at https://wishesndishes.com/maple-mustard-bacon-chicken-skillet/