Ravioli al Pomodoro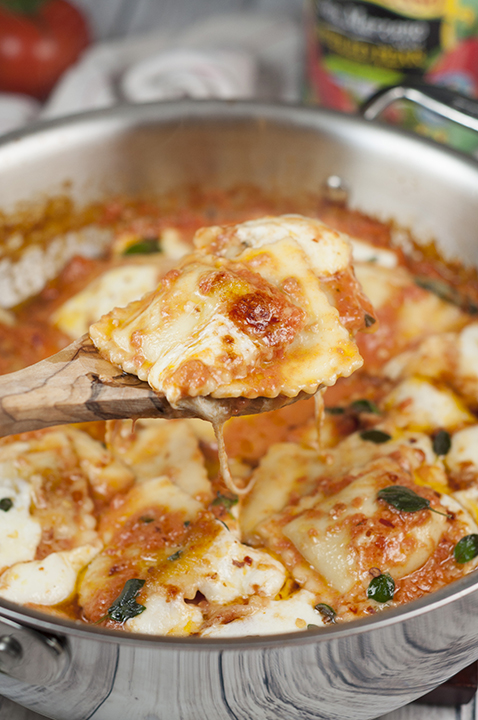 ¼ cup extra virgin olive oil, plus 1 tablespoon for drizzling on top
2 stems fresh oregano
½ yellow onion, diced
4 cloves garlic, pressed or minced
1 28-ounce can Tuttorosso San Marzano Style Peeled Pear Tomatoes with Basil & Sea Salt*
Salt and freshly ground black pepper
¼ tsp of red pepper flakes
¼ cup heavy cream
1 16-ounce package ravioli
8 ounces fresh mozzarella, sliced into smaller pieces
½ cup freshly grated Parmesan cheese
Lower the heat, and add the onion and garlic to the oil, being careful not to burn garlic.
Cook until the onions are transparent, about 5-7 minutes.
By hand, crush the San Marzano-Style tomatoes and add to the pan with the juice.
Season with salt, black pepper and red pepper flakes and simmer for 30-40 minutes, stirring occasionally, until the sauce reduces and thickens.
Stir in the heavy cream until incorporated and remove pan from heat.
Bring a large pot of salted water to a boil and add the ravioli. Cook according to package directions.
Drain water; place the ravioli into the cooked sauce.
Top with the mozzarella pieces and sprinkle with Parmesan cheese.
Drizzle the top with your 1 tbsp. of extra olive oil.
Broil in oven for 5-7 minutes or until the cheese melts and the tops become crispy.
Garnish with fresh oregano and serve hot. Enjoy!