Spicy Chicken Riggies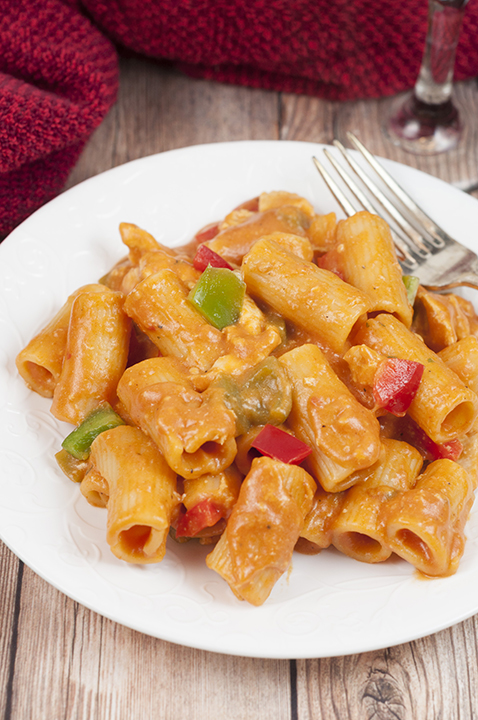 2 boneless skinless chicken breasts, cut into chunks
2 tablespoon minced garlic
1 sweet red pepper/red bell pepper, chopped
1 green bell pepper, chopped
1-2 tablespoon crushed red pepper flakes
½ teaspoon freshly ground black pepper
¼ teaspoon salt
2 tablespoons olive oil
2 cups Alfredo sauce (see ingredients & recipe below)
2 cups tomato sauce
Alfredo Sauce:
½ cup butter
1- 8oz package cream cheese softened, cup up
1 cup heavy cream
⅓ cup freshly grated Parmesan cheese
3 cloves of minced garlic
½ teaspoon black pepper
½ teaspoon dried parsley
1 lb rigatoni pasta, cooked al dente, drained
2 tablespoons butter
In a large skillet on medium-high heat, heat the olive oil.
Sauté garlic, red & green pepper, and red pepper flakes for about 2 minutes being careful not to let garlic burn.
Add in chicken breast chunks, pepper and salt, and cook until chicken until no longer pink.
Add in tomato sauce and stir; add in the Alfredo sauce. Let the sauces simmer together for about 8-10 minutes.
To the sauce and chicken mixture, add two tablespoons butter. Stir for 1-2 minutes until butter is fully melted.
Toss the chicken and sauce mixture with cooked pasta. Garnish with fresh Parmesan cheese (optional), and extra red pepper flakes if desired.
In a saucepan over medium heat, melt butter, being careful not to let it burn.
Add in softened cream cheese cubes and stir until cream cheese has melted.
Slowly poor in 1 cup heavy cream and whisk vigorously for a few minutes to prevent from clumping.
Add in Parmesan cheese and stir until it is well incorporated.
Stir in garlic, black pepper and dried parsley.
Keep stirring for a few minutes, then let the sauce simmer on low heat for a 2-3 minutes until thickened.