Baked Spaghetti and Meatballs Casserole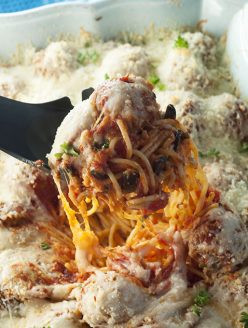 1 lb. ground beef
⅓ cup fresh bread crumbs
1 tablespoons milk
½ teaspoon salt
1 teaspoon Worcestershire sauce
½ teaspoon pepper
¼ cup onion , finely chopped
12 oz. package fresh spaghetti, linguine or fettuccine
1 tablespoon olive oil
2 cups shredded mozzarella cheese , divided
½ cup grated Parmesan cheese
1 large egg , slightly beaten
2 tablespoons fresh parsley ounce
28 oz. can of Tuttorosso tomato sauce
2 tablespoons fresh chopped parsley
1 egg
Grease a large casserole dish; set aside.
Preheat oven to 400 degrees.
Combine all ingredients for meatballs and form into about 1″ balls.
Place on a foil or parchment-lined pan and bake for 18 minutes. Remove from oven; reduce heat to 350 degrees.
Boil the pasta until just al dente (according to package directions). You don't want the pasta fully cooked as it will be baking afterward.
Drain and toss with olive oil.
Stir together egg, parsley, pepper, ½ cup mozzarella cheese, ¼ cup parmesan cheese & pepper to taste. Toss with the pasta and place in prepared dish.
Pour the meatballs and pasta sauce over it. Cover with foil and bake 35 minutes.
Remove foil, top with remaining cheeses and continue to bake just until cheese is melted and browned (watch so it doesn't burn). Enjoy!
Recipe by
Wishes and Dishes
at https://wishesndishes.com/baked-spaghetti-and-meatballs-casserole/