Bacon Alfredo Pizza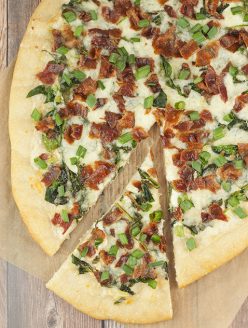 1 package Pillsbury's Best™ refrigerated classic crust pizza dough
½ cup Alfredo pasta sauce (homemade or store-bought)
4 green onions, thinly sliced, white and green parts separated
3 cloves garlic, finely chopped
2 cups baby spinach leaves
1 cup shredded mozzarella cheese
½ cup chopped cooked bacon
Preheat your oven to 425°F.
Place oven rack in low position. Unroll dough with oven-safe parchment paper onto ungreased large cookie sheet (dough bakes right on the paper).
Use an offset spatula or spoon to spread Alfredo sauce evenly over dough. Top evenly with green onion (white parts) and garlic.
Add on the spinach, cheese and bacon and spread evenly.
Bake 16 to 21 minutes or until crust is golden brown (mine was perfectly cooked at 20 minutes). Top with green onion (green parts). Serve hot!