One Pot Chili Mac and Cheese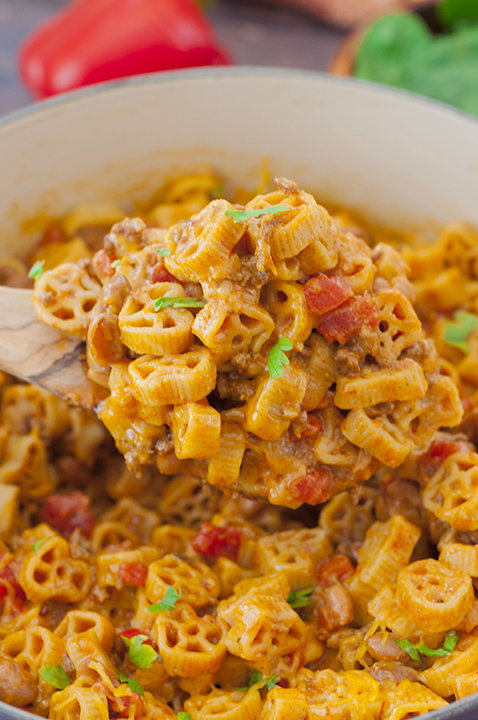 1 teaspoon Olive Oil
1 pound Ground Beef
½ Medium Sized Onion, Diced
4 cloves Garlic, Minced
½ Red Bell Pepper, Seeded And Diced
2 tablespoons Tomato Paste
2 tablespoons Chili Powder
1 teaspoon Cumin Powder
½ teaspoon Paprika
¼ teaspoon Oregano
¼ teaspoon Sea Salt
14.5 oz. can Tuttorosso Diced Tomatoes
1 15 oz. can Pinto Beans, Drained and Rinsed
4 cups Beef Stock
1 cup Half and Half
16 ounces any Short-Cut Macaroni, Uncooked (shells, elbows, wagon wheels, etc.)
3 cups Sharp Cheddar Cheese, Shredded
Using a large pot (5 or 6 quart) with a lid add olive oil and heat over medium-high heat.
Add ground beef. Cook until beef is no longer pink.
Stir in onion, garlic, bell pepper, tomato paste, chili powder, cumin, paprika, oregano, and sea salt, until onion and pepper start to soften, and garlic becomes fragrant.
Add diced tomatoes with juice, canned pinto beans, beef stock, half and half, and macaroni. Stir until well combined.
Bring this to a simmer, then reduce heat to low and cover. Cook for 13-15 minutes or until pasta is cooked through, but not mushy.
Turn off heat, and stir in cheddar cheese until it is fully melted.
Garnish with chopped fresh parsley, if desired. Enjoy while hot!
Recipe by
Wishes and Dishes
at https://wishesndishes.com/one-pot-chili-mac-and-cheese/