Italian Chocolate-Dipped Almond Horns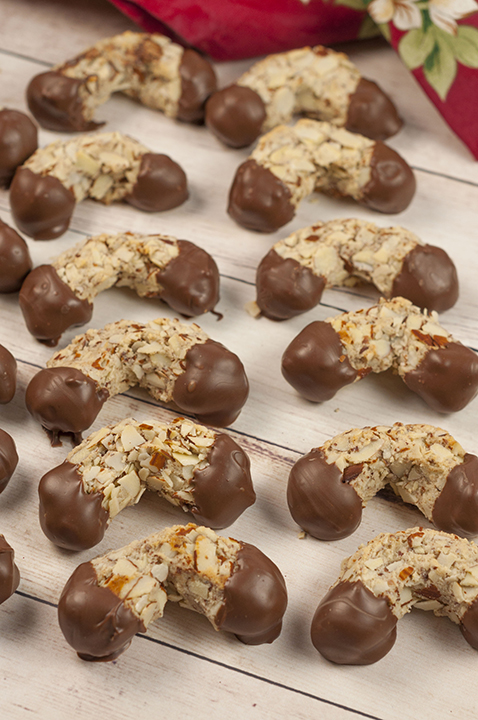 10 ounces marzipan, broken into 1-inch pieces
4 ounces finely ground almonds
2 tablespoons granulated sugar
1 large egg white
1½ teaspoons pure almond extract
1 cup sliced almonds
4 ounces semi-sweet or dark chocolate, finely chopped
Preheat oven to 375°F. Line your baking sheet with parchment paper or silicone baking mat.
In bowl of stand mixer fitted with paddle attachment (or use a hand mixer), mix marzipan, almonds, and sugar on low speed until combined (mixture may appear dry).
Mix in egg white and almond extract until well combined.
Place sliced almonds in shallow dish and lightly crush with hands.
Divide dough into 12 equal portions (about 1 rounded tablespoon each). Roll each ball into crushed almonds as you shape it into approximately 4½-inch ropes with blunt ends.
Shape rope into U-shape and place on prepared baking sheet. Continue with remaining balls of dough, evenly spacing them apart on baking sheet.
Bake cookies until just beginning to turn golden, about 15 minutes.
Let cool on pan about 10 minutes, then transfer to cooling rack to cool completely.
In microwave or using the double broiler method, melt half of chocolate, then add remaining chocolate and stir to melt.
Immediately dip ends of almond horns in chocolate and place back on parchment paper lined baking sheet.
Chill cookies in fridge until set. Serve cookies at room temperature. Enjoy!
Recipe by
Wishes and Dishes
at https://wishesndishes.com/italian-chocolate-dipped-almond-horns/