Bourbon-Glazed Chocolate Chip Pumpkin Bread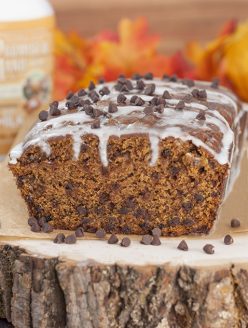 Serves:
1 hour 20 minutes
1½ cups all-purpose flour
2 teaspoons cinnamon
1 teaspoon baking soda
1 teaspoon salt
1 teaspoon ground ginger
½ teaspoon ground nutmeg
½ teaspoon ground cloves
¼ teaspoon baking powder
6 tablespoons unsalted butter, softened to room temperature
1½ cups brown sugar
2 large eggs
1 cup unsweetened pumpkin puree
1 teaspoon vanilla extract
⅓ cup Promised Land Dairy Pumpkin Spice Milk
1 cup mini chocolate chips
1 - 1.5 cup powdered sugar
2 tsp Bourbon
8-10 tsp Promised Land Dairy Pumpkin Spice Milk
Preheat oven to 350°F.
Spray a 9" x 5" loaf pan with cooking spray and line the bottom of pan with wax/parchment paper (this makes it easier to remove later on).
Sift together flour, cinnamon, baking soda, salt, ginger, nutmeg, cloves, and baking powder in a mixing bowl; set aside.
In a large mixing bowl and using a hand mixer, beat the butter until creamy.
Add the brown sugar and beat for a few minutes.
Add the eggs one at a time, mixing well after each one.
Beat in the pumpkin puree using your mixer.
In a small bowl, stir the vanilla into the pumpkin spice milk.
Mix the dry ingredients into the pumpkin mixture in 3 additions on low speed, alternating with the pumpkin milk mixture. Mix until just incorporated.
Fold in the chocolate chips.
Spread the batter into an even layer in your prepared pan.
Bake for about 1 hour or until a toothpick inserted in the center comes out clean. Let the loaf cool in the plan for 10 minutes, then turn out onto a rack to cool the rest of the way.
Mix together the Bourbon and milk; slowly add the powdered sugar to it. Whisk to get the clumps out and then let it sit for 10 minutes to thicken. Add extra powdered sugar, if needed, to thicken.
Pour your glaze over the bread just before serving. Enjoy!
Recipe by
Wishes and Dishes
at https://wishesndishes.com/bourbon-glazed-chocolate-chip-pumpkin-bread/