Baked Sausage, Spinach and Egg Breakfast Taquitos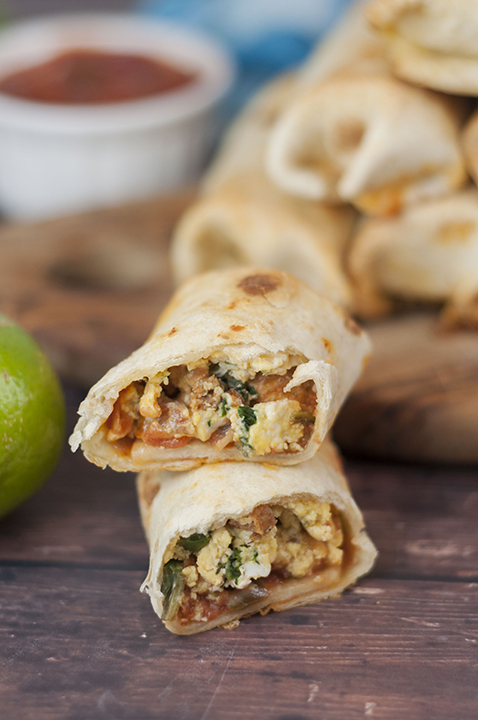 3 Zweigle's Chorizo chicken sausage links, diced (fully-cooked)
3 cups fresh spinach, chopped
⅓ cup green bell pepper, diced
6 large eggs
2 Tbsp Feta cheese, crumbled
½ cup shredded Pepper Jack cheese
½ cup salsa, plus more for serving
7 medium flour tortillas
olive oil
salt
Preheat oven to 425 degrees.
Brown sausage in a large skillet over medium heat (sausage is already cooked, you just want to give it some color).
Add chopped spinach and green pepper and saute for a few minutes.
In a separate bowl, whisk eggs and add to skillet. Stir until eggs are just cooked through.
Remove the skillet from heat and stir in the Feta cheese.
Microwave tortillas for 20-30 seconds to make them more pliable. Divide filling evenly between tortillas (depending on size, you may have more or less than 8 taquitos).
Top each with shredded cheese and a spoonful of salsa.
Roll up tightly and place seam-side down, on a baking sheet.
Brush taquitos lightly with olive oil and sprinkle with a little salt.
Bake for 10-15 minutes or until crispy, turning over once halfway through baking.
Serve with extra salsa or toppings of your choice for dipping.
Recipe by
Wishes and Dishes
at https://wishesndishes.com/baked-sausage-spinach-egg-breakfast-taquitos/