One Pot Creamy Jalapeño Popper Pasta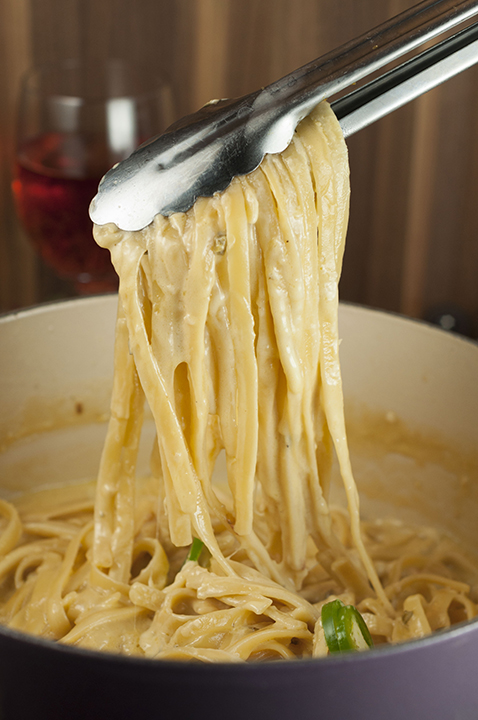 1 Tbsp olive oil
2 jalapenos, seeded, minced
5 Tbsp minced garlic
2 cups heavy cream (can use milk or half and half)
5 Tbsp unsalted butter
4 cups chicken stock
1 tsp sea salt
½ tsp ground black pepper
½ tsp red pepper flakes
1 lb.dry fettuccine/linguine pasta noodles
¾ cup Parmesan cheese
½ cup pepper jack cheese, freshly shredded
1 tablespoon chopped fresh parsley
In a heavy-bottomed pot (I used my dutch oven) or deep skillet, add olive oil and heat over medium heat.
Add jalapenos, sautéing for about 2 minutes, stirring frequently.
Add garlic and saute for 30 seconds or until fragrant, stirring frequently, being careful not to let it burn.
Add cream, butter, chicken stock, salt, pepper, and red pepper flakes; stir to combine.
Add in the uncooked pasta.
Raise heat to medium-high, and bring to a boil, stirring the pasta occasionally so it doesn't stick together.
Once at a boil, reduce heat to low. Cover and simmer for 20-22 minutes, stirring occasionally.
When the sauce has thickened and the noodles are just cooked (not mushy), remove from heat. Add both cheeses and mix until combined and pasta is coated.
Add additional salt & pepper, to taste. Sprinkle fresh parsley on top. Serve hot. Enjoy!
Recipe by
Wishes and Dishes
at https://wishesndishes.com/creamy-jalapeno-popper-pasta/