Hearty Beef Taco Salad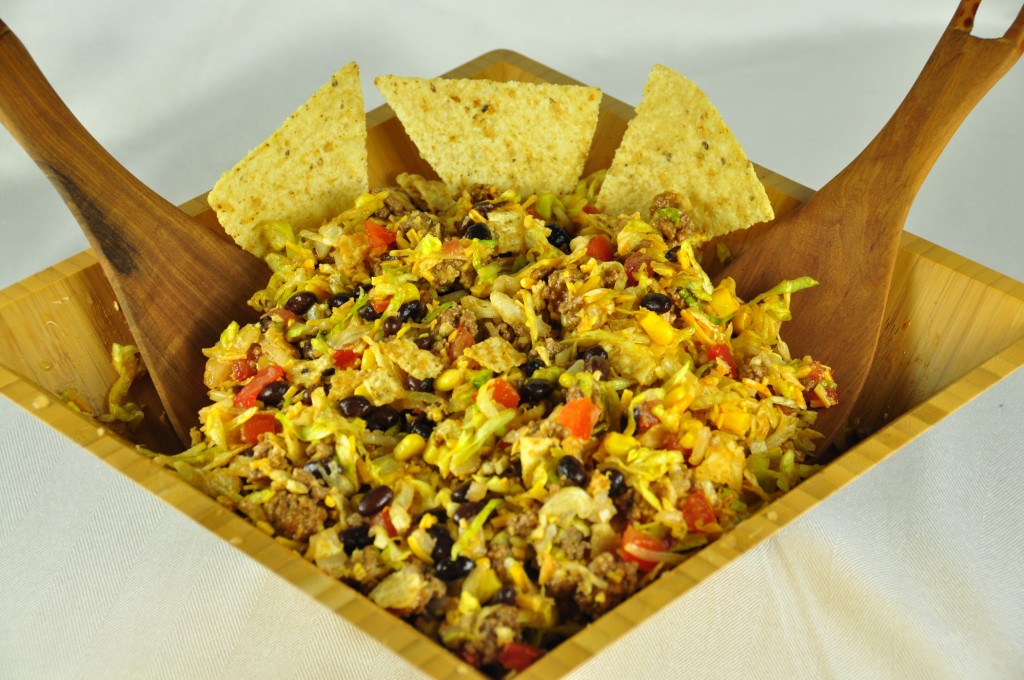 2 tomatoes, diced
½ pound sharp Cheddar, diced or shredded
1 large onion, diced
1 head iceberg lettuce, washed, drained and shredded
1 can of black or pinto beans, drained
1 cup of corn
1 pound lean ground beef, browned, crumbled and drained
package of taco seasoning
¾ cup Catalina salad dressing (I used fat free)
1 (7-ounce) bag tortilla chips (Fritos would also be great), crushed
Tortilla chips, to serve
Brown the ground beef, then drain.
Mix in the taco seasoning and the amount of water that is called for on the package.
Simmer this mixture until you have cooked off almost all of the liquid (you can chop the veggies in the meantime).
Combine the tomatoes, cheese, onion, lettuce, beans, corn, and ground beef in a large bowl.
Add the salad dressing and mix well.
Just before serving, add the tortilla chips, tossing to combine with other ingredients.
Top each serving with salsa or sour cream, if desired.
Serve with tortilla chips.