Dark Chocolate Peanut Butter Chip Cookies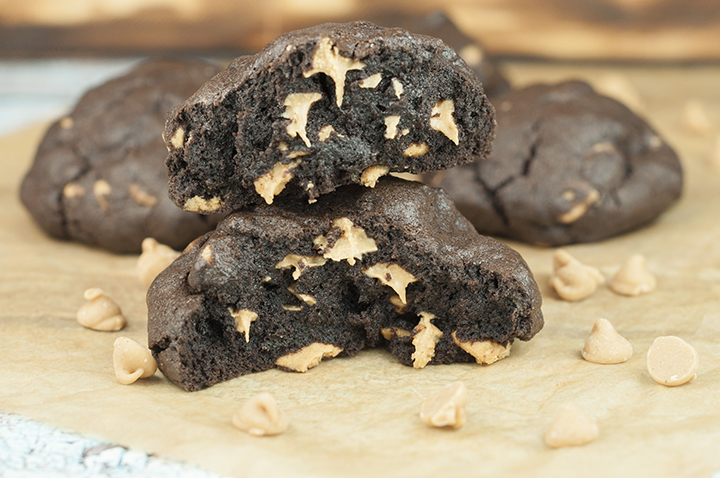 1 cup COLD salted butter, cut into small cubes
1 cup dark brown Sugar
½ cup Sugar
2 Eggs
½ cup Dark Baking Cocoa (I used Hershey's), sifted
1 cup Cake Flour
1½ cup All-Purpose Flour
1 teaspoon Cornstarch
¾ teaspoon Baking Soda
1 teaspoon vanilla
1and ¼ cup Peanut Butter Chips
Preheat oven to 410 degrees F.
In a bowl of a stand mixer (or use hand mixer), cream together cold butter and sugars until light and fluffy, approximately 4 minutes.
Add eggs one at a time, mixing well after each one.
Mix in vanilla.
Whisk together the cocoa, cake flour, all-purpose flour, cornstarch, baking soda, and salt in a separate mixing bowl.
Mix this into the butter/sugar mixture until just combined, in a few increments (do not over-mix).
Gently fold in peanut butter chips.
Chill dough for 20-30 minutes.
Separate dough into large balls (about 5-6 ounces each) and place on lightly colored cookie sheet lined with parchment paper or silicone baking mat.
Since these cookies are so large, you will only fit 4 cookies on one large cookie sheet. Make sure you space them out a bit even though they don't spread a whole lot. The dough makes about 8 very large cookies.
Bake for 10-13 minutes or until golden brown on the top and the tops of the cookies feel done, while cookies are still soft on the inside (oven times vary, so check periodically - cookies may need less time or extra time depending on the size you made them).
Let them rest for at least 10 minutes to set. Eat warm.
If you wish to freshen them after a day or two, nuke in the microwave for 10-15 seconds.
Recipe by
Wishes and Dishes
at https://wishesndishes.com/dark-chocolate-peanut-butter-chip-cookies/