Cinnamon Crumb Banana Bread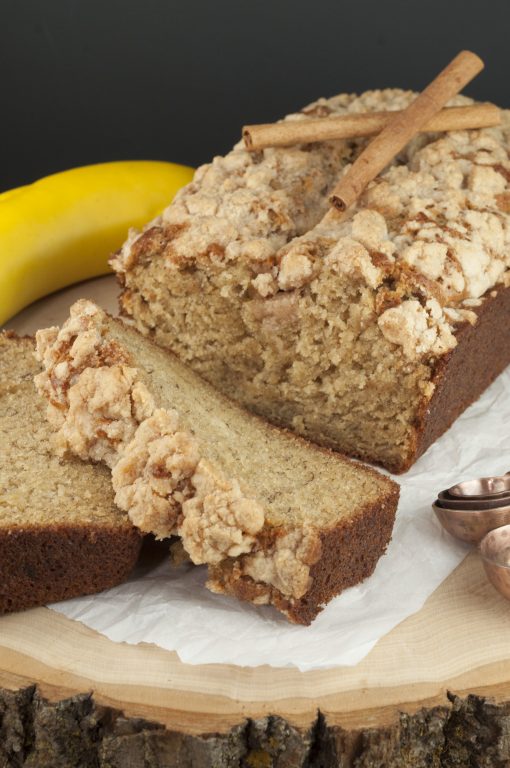 1 egg
1 cup sugar
½ cup unsalted butter, softened to room temperature
1 teaspoon vanilla
½ cup buttermilk
2 large overripe bananas, mashed
2 cups all-purpose flour
½ teaspoon salt
½ teaspoon baking soda
1 teaspoon baking powder
2 teaspoon cinnamon
½ cup powdered sugar
½ cup all-purpose flour
4 tablespoons unsalted butter, melted
1 teaspoon cinnamon
pinch of saltstand mixer
Preheat oven to 350 degrees F.
In a large bowl of a stand mixer or using a hand mixer, fitted with a paddle attachment, beat the sugar, egg and vanilla together until combined.
Add the butter to the same bowl and beat on medium speed until smooth and the butter is fully incorporated.
Beat in the buttermilk and mashed bananas.
In a separate mixing bowl, mix together the flour, salt, baking soda, baking powder and cinnamon. Slowly stir the dry ingredients into the wet until all the flour is incorporated.
Pour the batter into a well-greased loaf pan. Fill to about an inch or 2 from the top. Don't overfill (if you have extra batter).
Combine the powdered sugar, flour, cinnamon salt and melted butter in a mixing bowl. Crumble the mixture with your hands and sprinkle over the batter in the pan.
Bake for 45-50 minutes or until a toothpick inserted into the center comes out clean. If the streusel begins to brown, tent the bread with aluminum foil
Remove and let cool for at least 30 minutes before cutting.
Recipe by
Wishes and Dishes
at https://wishesndishes.com/cinnamon-crumb-banana-bread/