Carrot Cake Cinnamon Rolls with Mascarpone Icing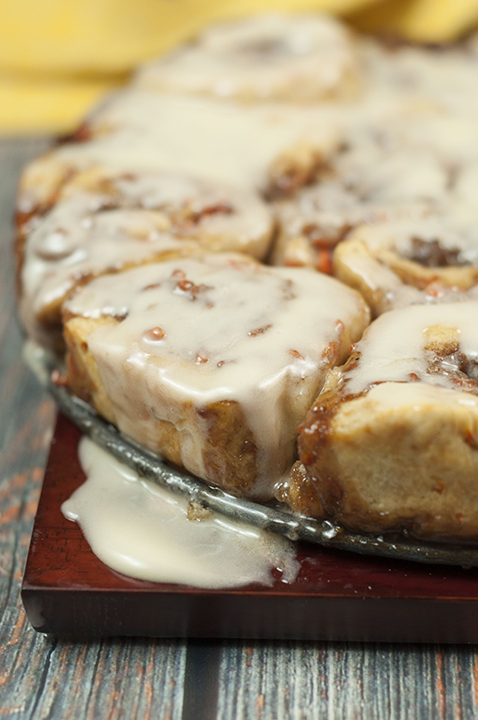 ½ cup milk
½ cup water
2 tablespoons salted Finlandia butter, melted
3 teaspoons active dry yeast
¼ teaspoon granulated sugar
1 tablespoon raw honey
3¼ cups all-purpose flour
1 large egg
1 teaspoon maple extract
½ teaspoon cinnamon
½ teaspoon allspice
1¼ cups finely grated carrot
⅓ cup salted Finlandia butter, melted
1 cup packed light brown sugar
¼ cup sugar
1 teaspoon cinnamon
½ teaspoon allspice
½ teaspoon ginger
¼ teaspoon ground nutmeg
extra melted butter for brushing
6 ounces mascarpone cheese, at room temperature
2 cups powdered sugar
2 teaspoons maple extract
5 tablespoons milk
Heat the milk and water in a small saucepan until just warm.
In the bowl of an electric mixer fitted with paddle attachment, add milk/water mixture, melted butter, yeast, sugar, and honey; mix until combined.
Let sit for about 15 minutes until the yeast is nice and foamy.
Add in 2½ cups of the flour, the egg, maple extract, cinnamon and allspice. Mix on low speed. Stir in ½ cup of the grated carrot and mix until combined.
Add in another ½ cup of flour and mix on low speed.
Switch to the dough hook attachment and knead the dough for about 5-6 minutes, gradually adding in the remaining half cup of flour.
Transfer the dough to a greased bowl and cover with a damp towel/cloth. Let rise in a warm place for 1½ to 2 hours or until doubled in size.
Preheat the oven to 350 degrees F. Punch down the down and transfer it on a floured surface.
Roll the dough out into a large rectangle - about 12 inches long and 6 inches wide.
Use a pastry brush to brush the surface of the dough with the melted butter.
In a small bowl, combine the brown sugar, sugar, cinnamon, allspice, ginger, and nutmeg, then sprinkle it evenly over top of the dough.
Add the remainder of the finely grated carrot evenly over top. Carefully and tightly roll the dough up into one long roll (make sure you're doing this length-wise).
Use a sharp knife to cut the roll into 1-inch pieces. Place the rolls in a baking dish or pan and cover, allowing them to rise for 30 minutes before baking. If using a springform pan, like I did, bake it on a baking sheet in the oven to prevent leaking.
After 30 minutes, brush the tops of rolls with the extra melted butter.
Bake for 25 to 30 minutes or until golden and set on top. Immediately remove from the oven and pour the icing over top. Serve warm!
Place mascarpone cheese in a large bowl and whisk until creamy.
Whisk in the powdered sugar and maple extract.
Slowly add in the milk and stir until a glaze is the consistency you prefer and no lumps remain (adding more milk if mixture is too thick/more sugar if too thin)
Pour over hot cinnamon rolls.
Recipe by
Wishes and Dishes
at https://wishesndishes.com/carrot-cake-cinnamon-rolls-with-mascarpone-icing/