Chili Cheese Dog Wreath Dip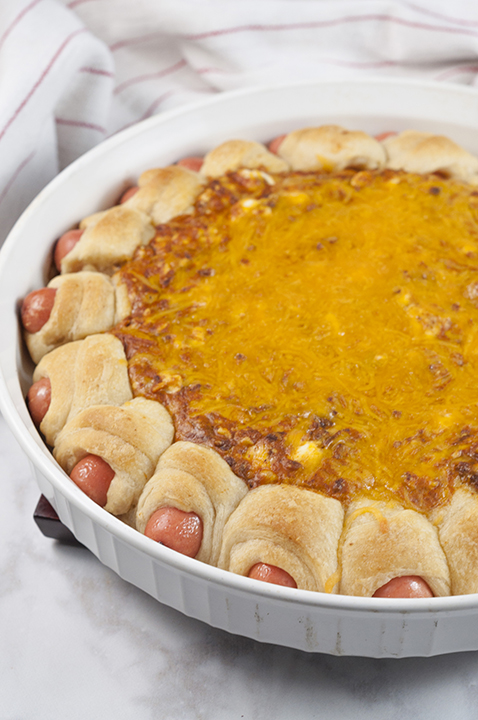 1 tube Crescent Roll dough
1 package cocktail wieners (I used Zweigle's)
olive oil (for brushing the tops)
1 (8 oz.) package cream cheese, softened
1 can chili (with or without beans)
1 cup sharp cheddar cheese, plus more for sprinkling on top
Preheat the oven to 350°F.
Unroll Crescent roll dough and cut each triangle into three even slices/triangles.
Take a cocktail wiener and roll up in one of the slices of dough to form each "Pig in a Blanket".
Set each Pig in a Blanket next to each other in a skillet, pie pan, or shallow baking dish, forming the circular wreath shape. Use a pastry brush to brush the top of each one lightly with olive oil.
In a mixing bowl, mix softened cream cheese, chili and cheese. Pour mixture evenly into center of wreath.
Sprinkle the top of the dip (not the pigs in a blanket) with plenty of extra cheese.
Bake for 20 minutes, or until the dip is bubbly and the cheese has fully melted. Serve warm!
Recipe by
Wishes and Dishes
at https://wishesndishes.com/chili-cheese-dog-wreath-dip/