New York Strip Loin Roast with Garlic-Herb Crust + GIVEAWAY!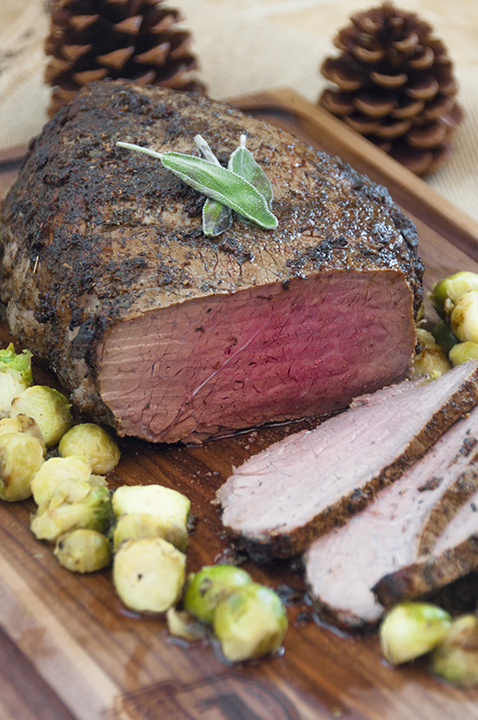 5 garlic cloves
8 fresh sage leaves
4 teaspoons fresh thyme leaves
4 teaspoons olive oil
4 teaspoons salt
1½ teaspoons ground black pepper
1 4- to 5-pound boneless beef loin New York strip roast, fat trimmed to ¼ inch (Certified Angus Beef brand is best)
Place the garlic into your food processor; blend/process until finely chopped. Add sage, thyme, oil, salt and pepper and process until a paste forms.
Pat meat dry with paper towels. Rub meat evenly on all sides with herb paste. Cover or wrap; chill at least 3 hours. (Can be made 1 day ahead and kept in the refrigerator.)
Preheat oven to 450°F. Place meat, fat side up, on a wire rack in roasting pan.
Roast meat 15 minutes. Reduce oven temperature to 350°F. Roast meat until instant-read thermometer inserted into thickest part of meat (inserted from the side of the roast) registers 135°F for medium-rare, about 35 minutes (or 145°F for medium, about 40 minutes) or to your desired degree of doneness .
Remove roast from oven and tent with aluminum foil. Allow roast to rest approximately 10-20 minutes before serving to redistribute the juices. The temperature of the roast will rise 5° F during standing.
Slice across the grain into ⅓-inch-thick slices. Arrange slices on platter and serve warm.
Recipe by
Wishes and Dishes
at https://wishesndishes.com/new-york-strip-loin-roast-garlic-herb-crust/