Chicken in Coconut Mango Verde Sauce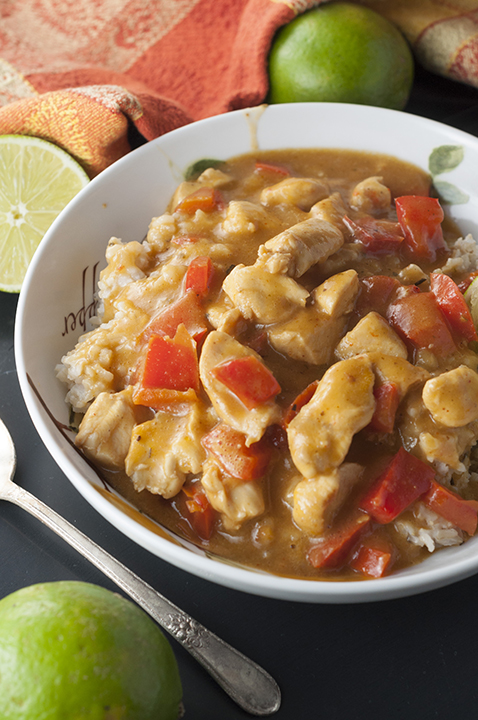 1 tablespoon olive oil
1 pound chicken breast, sliced
1 red bell pepper, chopped
1 green bell pepper, chopped (or use 2 red bell peppers)
1 13.5 oz. can coconut milk
1 cup salsa verde
1 cup chopped mango
1 jalapeno, seeded, deveined
4 tablespoons brown sugar
2 tablespoons fresh lime juice
1 teaspoon ground cumin
½ teaspoon chili powder
½ teaspoon smoked paprika
½ teaspoon salt
Hot sauce, to taste (optional)
Cilantro, for garnish (optional)
Add all of the ingredients for the Coconut Mango Verde Sauce to your blender or food processor and blend/process until smooth. Set aside.
In a large nonstick skillet, heat olive oil over medium-high heat.
Once very hot, add sliced chicken and cook just until chicken is no longer pink; add bell peppers and continue to cook for 2-3 minutes.
Slowly stir in the Coconut Mango Verde Sauce and cook just until sauce is hot and thickens a bit and make sure chicken is completely cooked.
Add hot sauce (such as Sriracha), to taste, and fresh cilantro. Serve hot over rice.
Recipe by
Wishes and Dishes
at https://wishesndishes.com/chicken-in-coconut-mango-verde-sauce/