Vanilla Butterfinger Cupcakes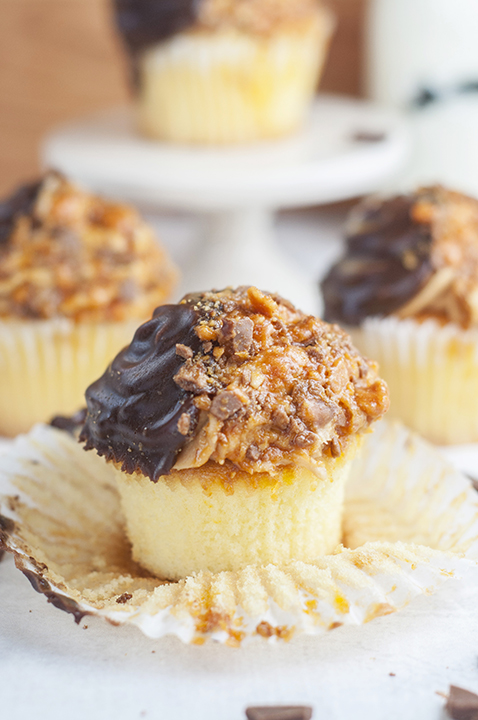 3 cups all-purpose flour
3 teaspoons baking powder
½ teaspoon salt
4 large eggs, at room temperature
1 and ⅓ cup sugar
3 sticks (6 ounces) unsalted butter, melted, and brought back to room temperature
4 teaspoons pure vanilla extract
1 cup International Delight Frosted Sugar Cookie Creamer (or use milk)
½ cup milk
1 and ½ cups candy corn
1 cup (2 sticks) unsalted butter, softened to room temperature
½ cup creamy peanut butter
3 – 4 cups powdered sugar
2 cups chocolate chips
3 tbsp vegetable oil
crushed Butterfingers (for topping)
Preheat the oven to 350 F. Line 2 (12-cup) standard muffin tin with cupcake liners.
Whisk the flour, baking powder and salt together in a medium bowl.
Beat the eggs and sugar together in the bowl of a stand mixer or with an electric hand mixer until light and foamy, about 2 minutes. While beating, gradually pour in the butter (that is room temperature) and then the vanilla.
While mixing slowly, add half the dry ingredients.
Add all the milk and follow with the rest of the dry ingredients. Do not to overmix the batter or cupcakes will be dense and tough. Divide the batter evenly in the prepared cupcake tins.
Bake for 18-20 minutes or until a tester/toothpick inserted in the center of the cupcakes comes out clean, rotating the tins about halfway through. Check at 18 since some ovens cook faster.
Cool the cupcakes on a rack in the tin for 10 minutes, and then remove from the tin. Transfer to rack to completely.
In a small saucepan over low heat, combine candy corn and milk. Melt the candy corn, stirring occasionally, until it's completely dissolved and mixture is thick enough to coat the back of a spoon. Let cool to room temperature.
In a large bowl, cream together butter and peanut butter with a mixer. Add 2 to 3 cups of powdered sugar (start with 2 and add more to get desired consistency).
Gradually add candy corn mixture until desired consistency is achieved. (I only used about ¾ of the candy corn mixture.) Add more powdered sugar if necessary.
(Tip: If you want a lot of frosting on your cupcakes, you may want to double this buttercream recipe to frost all 24.)
Once cupcakes have been frosted, place in freezer for one hour before dipping in chocolate.
Melt together the chocolate chips and vegetable oil in the microwave. Let cool for a few minutes.
Dip the frosted cupcakes upside down into chocolate mixture (I only did half but feel free to do the whole top), spinning the cupcake around if necessary to completely coat the frosting. Pull cupcake up, letting any excess chocolate drip off.
Let chocolate set for a minute or two before sprinkling the crushed Butterfingers on top.
The cupcakes get a bit "melty" sitting out for too long because of the chocolate, so keep cupcakes in the refrigerator until ready to serve. Enjoy!
Recipe by
Wishes and Dishes
at https://wishesndishes.com/vanilla-butterfinger-cupcakes/