Italian Ricotta "Peach" Cookies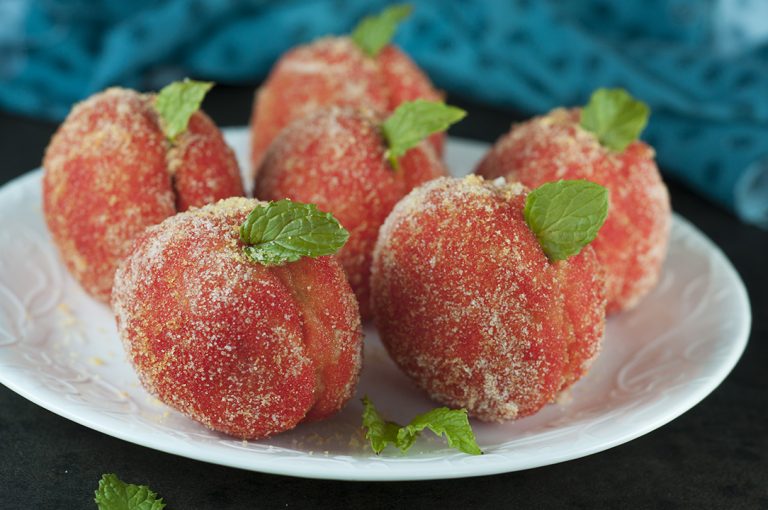 2 cups + 2 Tbsp good-quality ricotta cheese
½ cup granulated sugar
1 tsp vanilla extract
zest of 1 fresh orange (if using dried zest, use 1 Tbsp)
3½ cups all-purpose flour
1 tbsp baking powder
3 large eggs
½ cup + 3 Tbsp granulated sugar
½ cup milk
½ cup (1 stick) Finlandia unsalted butter, melted and cooled
zest of 1 fresh lemon (if using dried zest, use 1 Tbsp)
granulated sugar for rolling the cookies in
liquid food coloring in red and yellow
mint leaves, for garnish (optional)
In a medium bowl, whisk the ricotta cheese together with sugar until smooth and well incorporated.
Add orange zest and vanilla and stir until incorporated.
Cover and chill the mixture in your refrigerator while you make the cookies.
Preheat oven to 350°F. Line two baking sheets with parchment paper or silicone baking mat and set aside.
Sift flour and baking powder together into a large bowl.
In another bowl, whisk the 3 eggs and sugar until combined. Whisk in milk, melted butter and lemon zest until smooth.
Slowly mix the dry ingredients into wet ingredients, one cup at a time, until well incorporated.
Finish mixing the dough with your hands, if necessary, and form it into a ball. If it's too sticky add another tablespoon or two of flour until it sticks together. Let rest for 5 minutes.
Using your hands, roll the dough into 42-45 evenly sized balls and transfer them to the prepared baking sheets. Give about 1-2 inches between cookies so they have room to spread.
Press down each ball slightly with your fingers so it flattens a bit.
Bake the first round for about 14-15 minutes or until bottoms are golden brown -the tops will still be light in color. Rotate the pan halfway through baking for even cooking.
Repeat with second pan of cookies.
While the cookies are still warm (this is important that they are still warm), carve out a circle in the bottom of each cookie with a knife or spoon and have enough space for it to hold the ricotta filling. Don't go too deep or cookie will fall apart. Set aside.
Repeat with the second pan of cookies.
Choose two cookie halves that are the same size and set them aside together.
Fill each cookie hole with ricotta filling to fill the hole, but not overflowing too much or it will seep out (about a teaspoon). Press the two flat sides of each half together and gently wipe away any filling that oozes out at the edge.
Brush each peach with food coloring, gently roll it in sugar that you have placed in a bowl and place on a large plate to dry.
Repeat with the rest of the cookies.
Chill cookies, covered with plastic wrap, for a few hours before serving. This will harden the ricotta and moisten the cookies.
Decorate the cookies with small mint leaves before serving, to look like peach leaves, if desired.
Serve them at room temperature. Enjoy!
Recipe by
Wishes and Dishes
at https://wishesndishes.com/italian-ricotta-peach-cookies/