Pumpkin Spice Latte Ice Cream Cannoli + GIVEAWAY!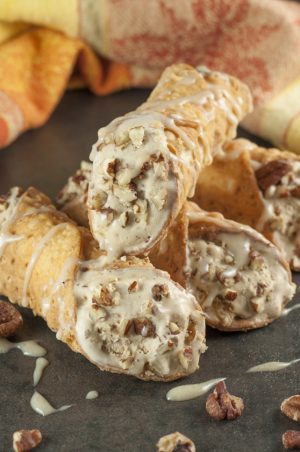 1 quart Perry's Pumpkin Spice Latte Ice Cream (or any pumpkin ice cream)
Pecans or walnuts, crushed, for sprinkling
Caramel sauce (homemade or store-bought), for drizzling
Remove the ice cream from freezer and allow to sit at room temperature for about 5-10 minutes or just until softened (this depends on how warm your kitchen is).
Use a spoon and scoop ice cream from the container and stuff the cannoli shell (do this from both ends). Do this carefully so the shell doesn't break.
Place the stuffed cannoli shells on a baking sheet or plate and place in the freezer for 1 hour.
Place the crushed nuts on a small plate or in a small bowl. Dip the ends of the cannoli into the nut topping and place back onto the baking sheet, moving quickly to prevent melting.
Place back into the freezer for at least one hour or until ready to serve. Drizzle with caramel topping just before serving (optional). Enjoy!
Recipe by
Wishes and Dishes
at https://wishesndishes.com/pumpkin-spice-ice-cream-stuffed-cannoli/