Pumpkin Pecan Cobbler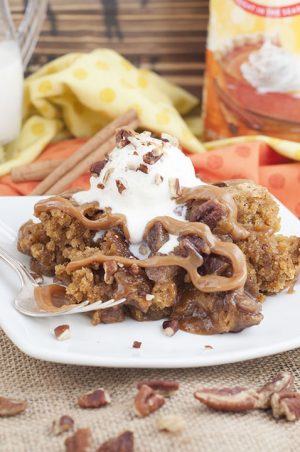 1 cup + 3 tablespoons all purpose flour
2 teaspoons baking powder
½ teaspoon salt
¾ cup granulated sugar
1 teaspoon cinnamon
½ teaspoon nutmeg
½ teaspoon cloves
½ cup pumpkin puree
¼ cup International Delight® Pumpkin Pie Spice Coffee Creamer
¼ cup melted butter
2 teaspoons vanilla
½ cup granulated sugar
½ cup brown sugar
½ cup chopped pecans
1 cup very hot water
Preheat oven to 350 degrees.
In a mixing bowl, whisk together the flour, baking powder, salt, sugar and spices. Set aside.
In a separate bowl, stir pumpkin puree, creamer, melted butter and vanilla together to combine.
Pour wet ingredients into dry ingredients and mix - the batter will be thick. Pour into a small 1.5 quart casserole dish where the sides are high enough for the cobbler to rise a bit.
In another mixing bowl, stir sugar, brown sugar and pecans together. Sprinkle evenly over the top of the batter.
Pour hot water over the whole top but do NOT stir it in to the other ingredients; just let it sit on top. Set the casserole dish on a baking sheet (to prevent a mess in the oven, just in case) and bake for 45-50 minutes or once the middle is set. Place foil over the top for the last 15 minutes of baking so it doesn't get too dark. My cobbler took 50 minutes to be done in the middle, but it depends on how hot your oven cooks.
Let cool 5-10 minutes before using a large spoon to scoop onto individual dessert bowls or plates. There will be hot caramel sauce at the bottom that you can spoon over the cobbler. Serve with vanilla or cinnamon ice cream and extra crushed pecans on top. Enjoy!