Almond Coconut Crusted Chicken Tenders with Mango Honey Dip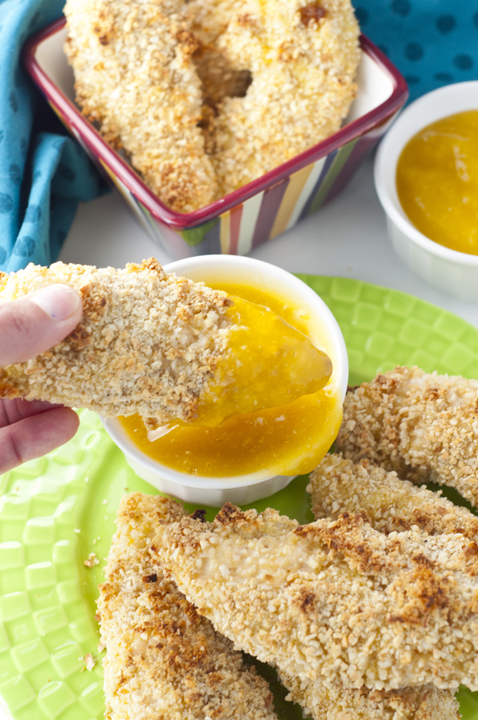 12 chicken tenders (about 2 pounds)
2 eggs
2 tablespoon lime juice
¾ cup flour
1 cup toasted almonds
½ cup sweetened coconut flakes
1 cup panko bread crumbs
1 tablespoon brown sugar
2 teaspoons garlic powder
1 teaspoon onion powder
1 teaspoon ground cumin
1 teaspoon salt
½ teaspoon pepper
½ teaspoon cayenne pepper
2 mangos, peeled and chopped
¼ cup honey
2 tablespoons lime juice
2 tablespoons apple cider vinegar
½ teaspoon cumin powder
3 cloves garlic, peeled
4 green onions, chopped
2 teaspoons red chili flakes (reduce for a milder sauce)
Preheat oven to 400 degrees.
Add almonds and coconut flakes to powerful blender or food processor and process until almonds are crumbs, scraping down the sides as needed.
Add almonds/coconut, bread crumbs, spices for the chicken tenders and brown sugar to a shallow dish (such as a pie dish) and mix well.
Place the flour in a different shallow dish.
Whisk the egg with the lime juice in another shallow dish until well incorporated.
Pick up one chicken tender at a time, dredge in flour, dip in egg mixture, and then coat in the coconut/cashew/panko mixture as the final step. Press mixture into chicken with your fingers to make sure the coating sticks to the chicken.
Place chicken tenders on a foil-lined baking sheet with a baking rack on top that has been sprayed with non-stick cooking spray.
Lightly spray chicken with non-stick cooking spray for extra crispiness, if desired.
Bake for approximately 25 minutes or until juices run clear.
Turn oven to broil until coconut is nicely golden, and panko crisp, but still light in color. Keep a good eye on it during this step to prevent burning.
Place all the ingredients in a blender or food processor and and process until smooth. Enjoy!
Recipe by
Wishes and Dishes
at https://wishesndishes.com/almond-coconut-crusted-chicken-tenders-mango-honey-dip/