Coconut Banana Bread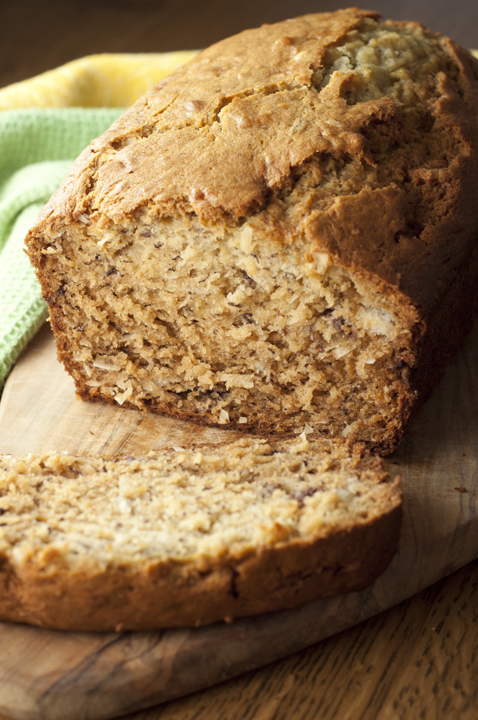 ½ cup canola oil
1 cup granulated sugar
2 eggs
2 tsp vanilla extract
2½ cups self-rising flour
1½ teaspoons baking powder
½ teaspoon baking soda
½ teaspoon salt
2 large overripe bananas, mashed (about 1 cup)
1 cup coconut milk
1 cup sweetened flaked/shredded coconut
Preheat the oven to 350°F. Lightly grease a 9x5-inch loaf pan and set aside.
Mix together the oil and sugar in a large mixing bowl using a wooden spoon. Add the eggs, one at a time, beating well after each addition. Mix in the vanilla extract.
Whisk together the flour, baking powder, baking soda, and salt in a separate mixing bowl.
In another separate bowl, stir together the mashed banana and the coconut milk. Mix into the wet ingredients.
Gradually mix in the dry ingredients with the wet ingredients, alternatively. Begin and end with the dry mixture. Mix until just combined - do not overmix or bread will be too dense. Stir in the flaked coconut.
Pour the batter into the prepared baking pan. Smooth to make it even on both sides.
Bake for 1 hour to 1 hour and 15 minutes (check at 1 hour). When a toothpick inserted in the center of the loaf comes out clean it is done.