Summer Chickpea Black Bean Salad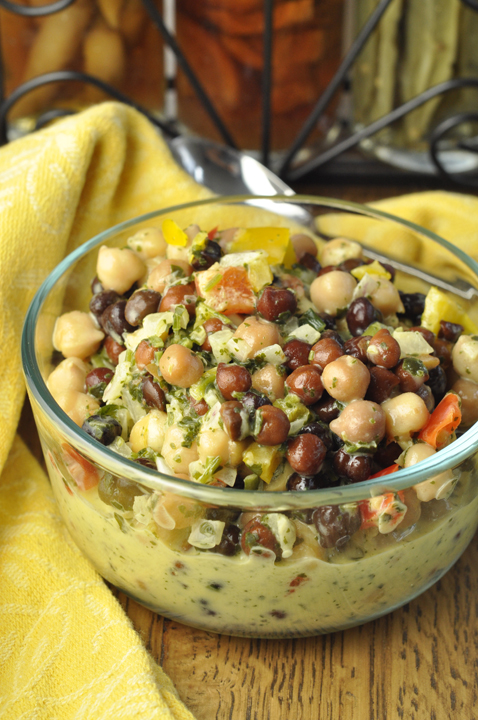 1 (15-ounce) can chickpeas, rinsed and drained
1 (15-ounce) can black beans, rinsed and drained
1 small red onion finely chopped
1 small red bell pepper, finely chopped (I had some yellow peppers on hand and added a handful chopped up)
2 ribs celery and leafy tops, chopped
2 clove garlic, minced or grated
½ teaspoon crushed red pepper flakes
1 tablespoons cilantro, finely chopped (use parsley if you don't like cilantro)
3 tablespoons red wine vinegar
3 tablespoons extra-virgin olive oil
1 tablespoon lime juice
Salt and freshly ground black pepper, to taste
Combine chick peas and black beans with onions, peppers, celery, garlic, red pepper flakes and cilantro in a medium bowl. In a small bowl, whisk together the ingredients for the dressing.
Dress salad with vinegar and oil mixture, salt and pepper. Taste and add more salt/pepper if needed.
Cover with plastic wrap and refrigerate for 1-2 hours before serving. It tastes better after doing this!
Recipe by
Wishes and Dishes
at https://wishesndishes.com/summer-chickpea-black-bean-salad/