English Cucumber and Dill Tea Sandwiches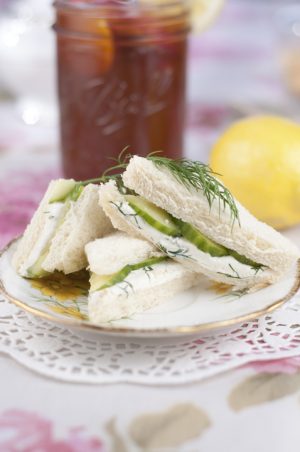 Serves:
about 12 sandwiches
4 ounces cream cheese, softened to room temperature
2 tablespoons fresh dill, chopped
Zest and juice of 1 small/medium lemon
salt and freshly ground black pepper
6 slices good-quality white bread, crusts cut off
⅓ large English seedless cucumber (about 4 inches), thinly sliced
In a small bowl, combine the cream cheese, fresh dill, lemon zest, and lemon juice until all incorporated. Season this mixture with salt and pepper, to taste.
Lay the slices of bread on your work service (I used a large cutting board) and spread the cream cheese evenly among each slice in a thin layer.
Arrange the cucumber slices in rows over 3 slices of the bread, overlapping them a bit. Top with the remaining bread, and cut into quarters so there are 4 pieces from each sandwich.
Serve immediately or bread will get soggy. Enjoy!
Recipe by
Wishes and Dishes
at https://wishesndishes.com/english-tea-cucumber-sandwiches/