Peanut Butter Buckeye Bark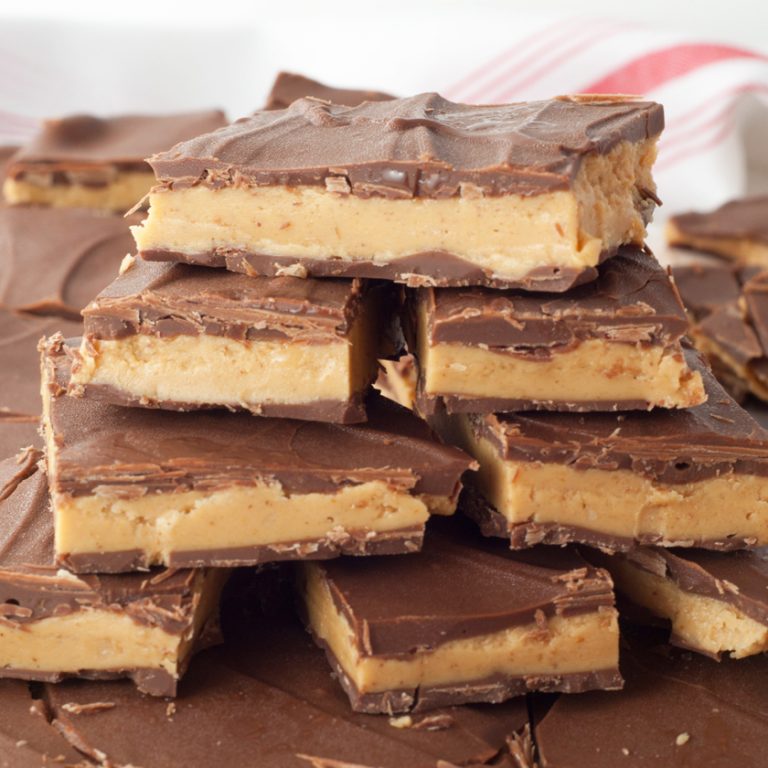 2 ½ pounds chocolate candy coating or almond bark, divided (don't use chocolate baking chips)
1 pound creamy peanut butter (not reduced fat or natural as it is too oily)
2 cups powdered sugar
1 stick unsalted butter, melted
1 teaspoon vanilla extract
Put a long piece of parchment paper in the bottom of a 9x13 inch jelly roll pan (a pan with sides), letting the parchment extend up two sides of the pan and overhang slightly on both ends. You can make slightly different size pan work as well. You will be removing the bark from the pan once set by lifting the parchment paper; set aside.
Melt 1¼ pounds chocolate according to package directions and pour the chocolate into prepared pan, use an offset icing spatula or regular spatula to evenly spread the chocolate over the parchment paper, creating a large chocolate "slab".
Place the pan in the freezer for 10 minutes or until chocolate becomes slightly hardened/solidifies.
In the bowl of a stand mixer fitted with the paddle attachment (or use a hand mixer), beat together the peanut butter, powdered sugar, butter and vanilla until smooth/creamy.
Use your hands to press this mixture into an even layer onto the hardened chocolate layer. Transfer pan to the freezer once again for ten minutes or until slightly hardened.
Meanwhile, melt the remaining 1 and ¼ pounds of chocolate according to package directions and pour it over the peanut butter layer. Use an offset spatula to carefully smooth it over into an even layer.
Transfer the pan to the freezer again until set.
Once chocolate is set, use a very sharp knife (a butcher knife works great) to cut up the bark into small pieces. They won't be perfect squares and may be a bit messy, but that's OK and what it is supposed to look like.
Store in the refrigerator so it doesn't get melty. Let sit at room temperature for at least 30 minutes before serving.
Recipe by
Wishes and Dishes
at https://wishesndishes.com/peanut-butter-buckeye-bark/