Bacon Cheeseburger Dip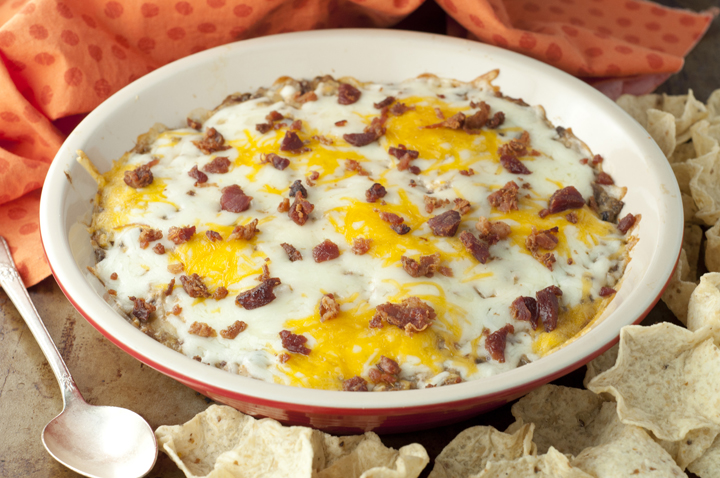 • ½ pound ground beef
• 6 strips bacon, cut into 1 inch pieces
• 1 small onion, diced
• 1 clove garlic, chopped
• 4 ounces cream cheese, room temperature
• ½ cup sour cream
• ¼ cup mayonnaise
• ¾ cup mozzarella, shredded
• ¾ cup sharp cheddar cheese, shredded
• 1 tablespoon Worcestershire sauce
• 2 tablespoon ketchup
1 teaspoon mustard
Cook the ground beef in a skilletover medium heat, set it aside and drain the grease from the pan.
• Cook the same bacon in the pan until crispy, about 6-10 minutes, set aside and drain but reserve a tablespoon of the grease.
• Add the onion to the pan with the bacon grease and saute until tender, about 5-7 minutes.
• Add the garlic and saute until fragrant, about a minute, being careful not to let it burn.
• Mix the ground beef, bacon, onions and garlic, cream cheese, sour cream, mayonnaise, ½ cup of the mozzarella cheese, ½ cup of the cheddar cheese, Worcestershire sauce, mustard, and ketchup together in a large bowl and pour it into a baking dish (I used a pie dish).
• Bake in a preheated 350F/180C oven until the top starts turning a light golden brown and bubbling, about 20-25 minutes. A few minutes before it is done, add ¼ cup of cheddar cheese and ¼ cup of mozzarella cheese to the top and stick it back in the oven just until cheese is melted (be careful not to let it burn). Serve warm with tortilla chips. Enjoy!