White Chocolate Biscoff Pretzel Bites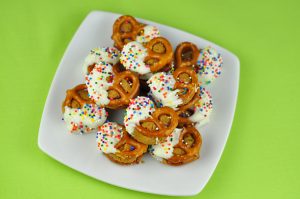 Serves:
45-50 pretzel bites
INGREDIENTS:
1 cup creamy Biscoff spread
2 teaspoons butter, at room temperature
½ cup powdered sugar (might need a little more)
¾ cup light brown sugar (might need a little more)
¼ teaspoon vanilla extract
Pretzels
2 cups white chocolate chocolate chips
rainbow sprinkles, optional
In the bowl of a stand mixer, beat the Biscoff Spread and butter together until smooth and creamy.
Beat in the powdered sugar, light brown sugar, and vanilla extract until combined. If the filling doesn't roll easily into balls without sticking to your hands, add a little more brown sugar and powdered sugar and mix again.
Roll teaspoons of the Biscoff mixture into balls. Sandwich between two pretzels and put on a plate or cookie sheet.
Freeze the pretzel sandwiches for 30 minutes.
Melt the white chocolate chips, using the microwave (30 second intervals) or a double boiler. Dip half of each pretzel sandwich into the white chocolate. Sprinkle pretzel bites with sprinkles, if desired.
Return the tray to the freezer and chill until the chocolate sets. Store the Biscoff Pretzel Bites in the refrigerator until serving time.
Recipe by
Wishes and Dishes
at https://wishesndishes.com/white-chocolate-biscoff-pretzel-bites/