Pork Tenderloin with Apple Cider Reduction + Pass the Pork Tour!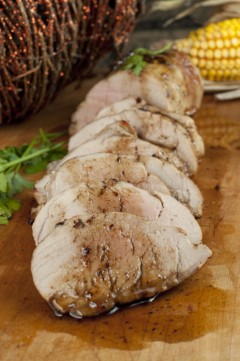 2 (1 pound) pork tenderloins, cut in ½ crosswise
Vegetable oil
garlic powder
Kosher salt and freshly ground black pepper
1½ cups apple cider
½ cup apple cider vinegar
¼ cup real maple syrup
Heat oven to 500 degrees F and arrange rack in the upper third portion of oven.
Pat pork tenderloins dry with paper towels, brush with oil, and season well with salt, garlic powder and freshly ground black pepper.
Heat a large frying pan (preferably stainless steel or cast iron) over medium-high heat.
Add 2 pieces (or as many that will fit without crowding) of pork tenderloin and cook until brown on all sides to create somewhat of a "crust", turning occasionally, about 4 minutes. This locks in the flavor and juices.
Set pork aside on a baking sheet and repeat with remaining pieces.
Place pork in oven and cook until an instant-read thermometer inserted in the middle of the tenderloin registers 145 degrees F, about 15 minutes (I took mine out at 140 and as they sat, the temperature rose to 145. This depends on how well-done you like your meat).
Meanwhile, place pan over high heat, add cider and vinegar and stir, scraping up any browned bits and mixing those in. Cook until mixture is reduced by ⅔, about 8 minutes.
Reduce heat to medium, stir in maple syrup and remove from heat until pork is cooked.
When pork is ready, remove to a cutting board to rest about 5 minutes. Warm sauce over medium-high heat, add pork to the same pan as the sauce and any accumulated juices and spoon sauce over meat to completely coat.
When pork is warm, return pork to cutting board and slice thinly. Serve with pan sauce spooned over. Enjoy!
Recipe by
Wishes and Dishes
at https://wishesndishes.com/pork-tenderloin-with-apple-cider-reduction-pass-the-pork-tour/