Peanut Butter S'mores Cookies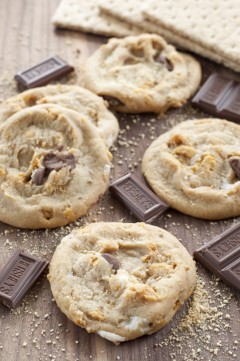 1 stick (1/2 cup) unsalted butter, softened
¼ cup creamy peanut butter
¾ cup light brown sugar, packed
¼ cup sugar
1 large egg
2 tsp. vanilla extract
1¾ cups all purpose flour
2 tsp. cornstarch
1 tsp. baking soda
pinch salt
1 cup coarsely chopped graham crackers (approx. 4 full-size sheets)
1 cup milk chocolate chips
1 cup Marshmallow Bits
In the bowl of a stand mixer, add butter, peanut butter, light brown sugar, sugar, egg & vanilla. Beat on medium high speed until light and fluffy- about 5 minutes.
In a separate bowl, whisk together flour, cornstarch, baking soda, & salt.
Reduce mixer speed to low and add flour mixture a little at a time to the butter mixture until just incorporated. Don't over-mix or cookies won't be as soft as they should be.
Remove bowl from stand and add in graham cracker pieces, chocolate chips, & marshmallow bits. Gently fold into the cookie dough until fully incorporated.
Using a cookie scoop or your hands, form balls of dough approximately 2 tbsp. in diameter. Place dough balls onto a plate. I got 19-20 balls of dough. Cover dough balls with plastic wrap and place in the refrigerator for at least 2 hours or overnight. (You can also freeze them at this point if you wish).
Preheat oven to 350 degrees. Remove cookie dough balls from refrigerator and let them come to room temperature (about 15-20 minute).
Line a baking sheet with parchment paper or silicone baking mat. Place dough balls 2 inches apart. Bake for 8-10 minutes, rotating cookie sheet half way through. Bake until edges are lightly golden and centers are just beginning to set.
Allow cookies cool on baking sheet for approximately 5 minutes then transfer to cooling rack to cool completely. Cookies will firm up as they cool.
Store in an airtight container.
Recipe by
Wishes and Dishes
at https://wishesndishes.com/peanut-butter-smores-cookies/