Antipasto Tortellini Salad with Honey Vinaigrette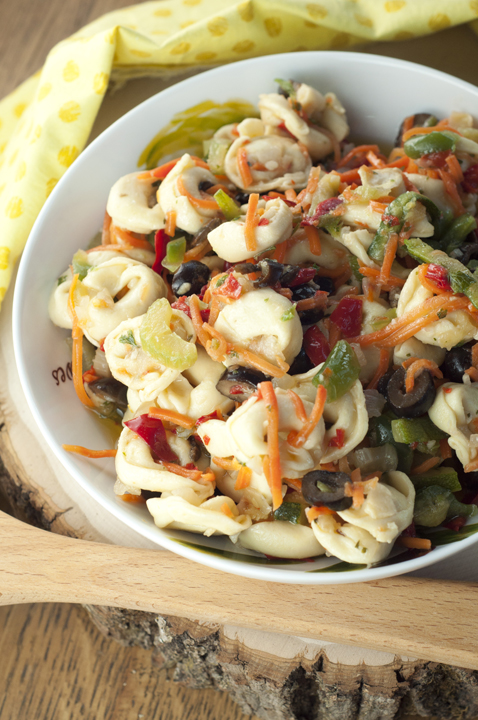 8 oz. pack Cheese Tortellini
½ red pepper, sliced into strips
½ green pepper, sliced into strips
2 ¼ ounce can slicked black olives, drained (or get a can and slice them yourself)
1 medium carrot, thinly sliced or julienned
1 stalk of celery, diced
½ cup Fresh flat leaf parsley, roughly chopped
Honey VIinaigrette
2 cloves garlic, minced
½ cup extra virgin olive oil
2 Tbsp. honey
2 Tbsp. red wine vinegar
¼ tsp. Kosher salt
¼ tsp. ground black pepper
Make the dressing by placing all the ingredients in a bowl except the olive oil. Then slowly whisk in the olive oil until you have a nicely thickened dressing. Set aside. The dressing will get more body as it sits, from the honey.
Place the red and green peppers, carrots, black olives and celery in a large mixing bowl.
Cook tortellini according to the package (I cooked mine for 10 minutes in salted water). Drain and place hot tortellini into bowl with the peppers. Pour dressing over and toss all ingredients together gently to make sure all ingredients are coated evenly. As the ingredients sit with the dressing, the warm pasta will absorb a lot of it.
Stir in the parsley.
Cover and refrigerate for at least 2 hours, stirring occasionally. Serve.
Recipe by
Wishes and Dishes
at https://wishesndishes.com/cheese-tortellini-salad-with-honey-vinaigrette/