Cotton Candy Oreo Truffles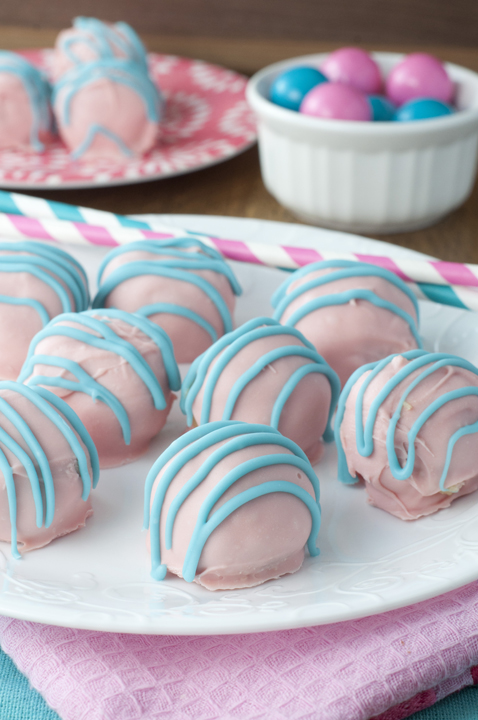 Serves:
about 15 truffles
Set a long sheet of wax paper over a cookie sheet, set aside.
Place whole Oreos in a food processor and pulse until finely crushed (alternately if you don't own a food processor you can place Oreos in a large Ziploc bag, seal bag and crush with a rolling pin until finely crushed).
Add chunks of cream cheese and pulse in food processor until evenly moistened and forms a "dough" and is completely combined.
Scoop mixture out and form into 1 inch balls then align on prepared cookie sheet. They will be messy- that's OK.
Place truffles in freezer for about a half hour (or longer).
Melt chocolate according to directions on package (if you are using two colors, just melt the main one you are dipping truffles in). Do not scorch. If microwaving, only do so in 20-30 second intervals on half power, stirring each time.
Remove truffles from freezer, reshape with hands if needed, and dip in melted chocolate using a fork (or two), or a toothpick, and evenly coat them and allow excess chocolate to run off.
Return to baking sheet and allow chocolate to set.
If using a second color, melt that chocolate once the other chocolate is already set on the truffles and drizzle over the top like I did. I did this by filling a zip-loc bag with the melted blue chocolate , snipped off the corner, and "piped" it on.
Store covered in an airtight container in refrigerator until ready to serve. These also freeze well.
Recipe by
Wishes and Dishes
at https://wishesndishes.com/cotton-candy-oreo-truffles/