Greek Pasta Salad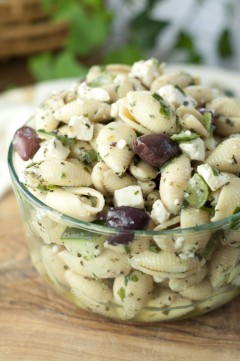 Pasta salad:
12 oz. of bite-size uncooked pasta (I used shells. You can also use gluten-free)
2 cups medium diced seedless cucumber, lightly sprinkled with salt
½ cup pitted kalamata olives, chopped coarse or kept whole
1 cup crumbled feta cheese
Dressing:
2 teaspoons dried oregano
½ cup extra-virgin olive oil
3 tablespoons red wine vinegar
2 teaspoons freshly squeezed lemon juice
1½ teaspoons minced garlic
1 teaspoon sugar
Salt and ground black pepper
Bring a large pot of salted water to a boil. Add the pasta and cook it until al dente (use the time on the pasta box as a guide). Strain the pasta and transfer it to a large bowl to cool while you make the dressing.
In a small bowl, whisk together all of the dressing ingredients, except for the olive oil. While whisking, stream in the olive oil. Season the dressing with salt and pepper, to taste.
Add the cucumbers, olives, and feta cheese to the bowl with the pasta.
Mix the dressing ingredients, except for the salt and pepper, in a separate bowl.
Pour the dressing over the pasta, tossing to combine, add salt and pepper to taste, then cover the salad with plastic wrap and refrigerate it for at least 3 hours or overnight for the flavors to fully come together. When ready to serve, toss the pasta salad again. Adjust seasonings as needed. Serve cold or at room temperature.