Peach Pie Protein Shake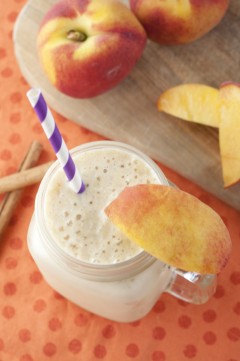 Serves:
1 large or 2 small
½ cup Friendship Dairies low-fat cottage cheese
2 tablespoons vanilla protein powder (optional)
¾ cup fresh or frozen peaches
½ teaspoon cinnamon
¼ teaspoon ground nutmeg
½ teaspoon vanilla extract
2 teaspoons of sugar (or sweetener of choice)
1 cup milk
5-10 ice cubes (use more for thicker shake)
Put all ingredients in a blender and blend until it has reached a smooth and creamy consistency. Garnish with a slice of peach, if desired. Pour into glass(es) and serve.