Santa Monica Street Tacos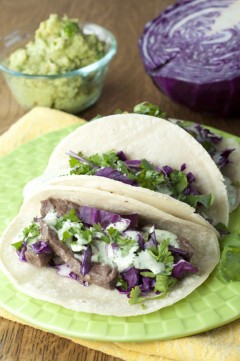 6 six-inch white corn tortillas
1 pound skirt or flank steak, trimmed of fat and sliced into thin strips
½ teaspoon salt
¼ teaspoon cayenne pepper
1 teaspoon garlic powder
½ teaspoon minced garlic
1 teaspoon oil
1 cup diced white onion
½ cup cilantro leaves, roughly chopped
2 cups thinly sliced red cabbage
Cilantro Lime Vinaigrette:
1 cup cilantro leaves
juice of 2 limes
⅓ cup oil
4 teaspoons minced garlic
¼ cup white vinegar
2 teaspoons sugar
¼ cup milk
½ cup sour cream
Heat oil in a skillet over medium heat. Season sliced steak with salt, cayenne pepper, and garlic powder.
Add steak to pan and sauté until cooked through (about 8-10 minutes).
Add garlic in with the steak and sauté 1-2 minutes longer until garlic is fragrant but watch so it doesn't burn. Remove from heat and dice steak or leave it in strips.
Whisk together all ingredients for vinaigrette.
Add mixture to a blender and pulse for about 1 minute or until smooth. Add ¼-1/3 cup steak to each tortilla (microwave the tortillas for 30-45 seconds wrapped in a damp paper towel, or according to package instructions,so they will be easier handle, more flexible and softer).
Top steak with cabbage, onions, and chopped cilantro. Drizzle with vinaigrette.
Serve immediately so the corn tortillas don't get too soggy. Have a side of guacamole and chips on the side. Enjoy!
Recipe by
Wishes and Dishes
at https://wishesndishes.com/santa-monica-street-tacos/