Peanut Butter Cookie Dough Brownies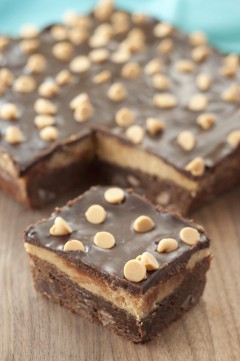 Brownie Layer:
½ cup unsalted butter
2 (1-ounce) squares unsweetened chocolate
1 teaspoon vanilla extract
1 cup sugar
2 large eggs
½ cup plus 2 tablespoons all-purpose flour
½ teaspoon baking powder
½ teaspoon salt
¾ cup semisweet chocolate chips
Peanut Butter Cookie Dough Layer:
¼ cup unsalted butter, softened
½ cup packed light brown sugar
2 tablespoons milk
½ cup creamy peanut butter (I used Peanut Butter & Co.White Chocolate Wonderful)
½ cup plus 2 tablespoons all-purpose flour
½ teaspoon salt
Ganache Layer:
¾ cup dark chocolate chips
¼ cup heavy whipping cream
½ cup peanut butter chips
Preheat your oven to 350 degrees F. Spray the bottom and sides of an 8 by 8-inch pan with non-stick cooking spray.
For the brownies: microwave the butter and unsweetened chocolate in a microwavable bowl at high power until the butter is melted, about 2 minutes. Stir until combined, then mix in the vanilla extract. Meanwhile, beat the sugar and eggs in a large bowl and add in the chocolate mixture. Stir in the flour, baking powder, salt and chocolate chips. Spread the brownie mixture evenly into the prepared pan. Bake until the brownies are set and a toothpick inserted in the center of the brownies comes out clean, about 22 to 28 minutes (mine took the full 28 minutes). Remove from the oven and let cool for 30 minutes.
For the peanut butter cookie dough: Add the butter and brown sugar to a large bowl and mix until creamy. Mix in the milk and the peanut butter, then stir in the flour and salt. Spread the peanut butter cookie dough evenly over the cooled brownies.
To make the ganache: In a small microwavable bowl, microwave the dark chocolate chips and heavy whipping cream, uncovered, on high for 1 minute, stirring after 30 seconds. Continue stirring until the chips are melted and the mixture is smooth. Spread the ganache over the peanut butter layer and sprinkle with the peanut butter chips. Refrigerate until the dough and ganache are set, about 1 hour. Cut into squares and serve.
Recipe by
Wishes and Dishes
at https://wishesndishes.com/peanut-butter-cookie-dough-brownies/