Louisiana Garlic Bread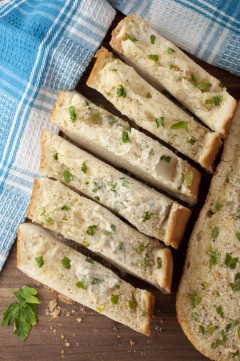 4 ounces (1 stick) unsalted butter, at room temperature (very soft)
3 teaspoons chopped garlic
2 tablespoons fresh lemon juice
3 tablespoons chopped fresh parsley leaves
1 teaspoon freshly ground black pepper
1 large loaf French or Italian bread, halved lengthwise
Preheat oven to 350 degrees F. (Bread can also be done on the grill or in a barbeque pit.)
Combine the butter, garlic, lemon juice, parsley, and black pepper in a small mixing bowl. Stir to blend well. Spread both halves of the bread with the mixture. Put the halves together, wrap in a sheet of aluminum foil, and place in the oven or on the grill until bread is heated through, about 20 minutes. Make sure the butter is melted and bread is a little crispy. If you like it more crispy, separate it, put it "face up" and run it under the broiler after it is done baking to crisp it up a bit. Keep a close eye on it so it doesn't burn. This process will only take a couple of minutes.
Use a sharp bread knife to slice, making each slice about 1 inch wide.
Serve warm.