Lemon Butter Chicken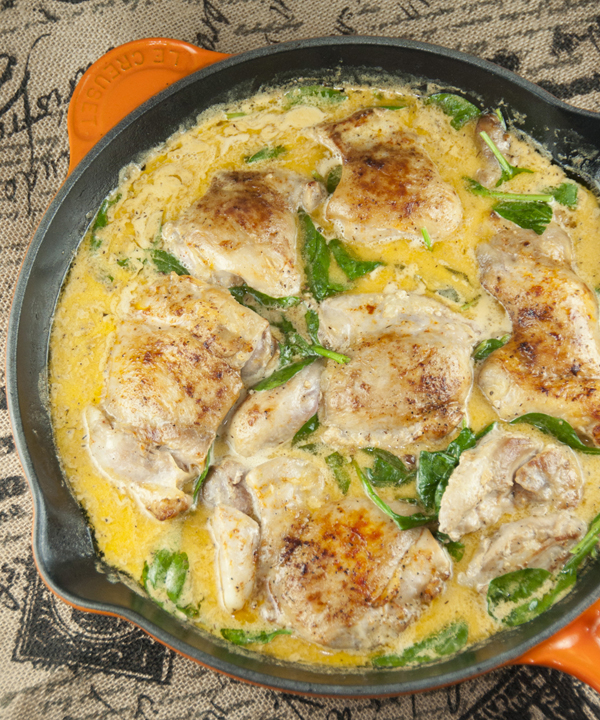 7-8 bone-in, skinless chicken thighs
1 tablespoon smoked paprika
Kosher salt and freshly ground black pepper, to taste
4 tablespoons unsalted butter, divided
4 cloves garlic, minced
1 cup chicken stock
½ cup heavy cream
¼ cup grated Parmesan or Pecorino Romano
Juice of 1 lemon
2 teaspoons dried thyme
3 cups baby spinach
Preheat oven to 400 degrees F.
Season chicken thighs with paprika and enough salt and pepper, to taste.
Melt 2 tablespoons butter in a large oven-proof skillet over medium high heat. Add chicken and sear both sides until golden brown, about 2-3 minutes per side; drain excess fat and set aside.
Melt remaining 2 tablespoons butter in the skillet. Add garlic, and cook, stirring frequently, until fragrant, about 1-2 minutes (do not let it burn). Stir in chicken broth, heavy cream, Parmesan, lemon juice and thyme.
Bring to a boil; reduce heat, stir in spinach, and simmer until the spinach has wilted and the sauce has slightly thickened, about 5 minutes (you don't want the spinach to wilt too much). Return chicken thighs to the skillet.
Place into oven and roast until completely cooked through, reaching an internal temperature of 175 degrees F, about 25-30 minutes.
Serve immediately by placing chicken on plates and spooning sauce over it. Enjoy!