Double Peanut Butter Molten Lava Cakes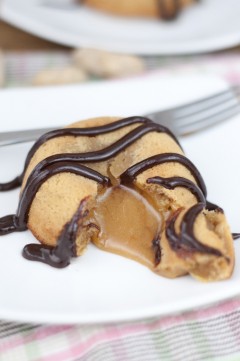 ¼ cup unsalted butter
4 oz. peanut butter chips
¼ cup peanut butter (not the natural kind)
¾ cup powdered sugar
2 eggs
2 egg yolks
4 TBSP all-purpose flour
⅛ teaspoon salt
Ganache: (make this ahead of time as it needs to cool before pouring over cakes)
1 cup (6 ounces) semisweet OR bittersweet chocolate chips
⅔ cup heavy whipping cream
Preheat oven to 425 degrees.
Melt the peanut butter, peanut butter chips, and butter together in a microwave-safe bowl (about a minute or a little bit more). Stir after a minute and if not completely smooth, microwave a little longer.
After mixture is completely smooth, add the sugar and mix well.
Add the eggs and egg yolks, one at a time, and whisk vigorously after adding each egg until well incorporated.
Add the flour and mix until just combined.
Spray 4 custard cups very well with non-stick spray then place onto a baking sheet.
Pour peanut butter batter evenly into cups then bake for 12-13 minutes, or until the sides are set but center is still soft (but not extremely jiggly.) Middle will look not quite done, but sides should be set.
Let cool for 2 or 3 minutes, then invert cakes onto serving plates. They should come right out, but if needed, run a small knife around edges to loosen.
Drizzle chocolate ganache over the top and serve warm (this is imperative or the peanut butter won't be melty when cut open)!
Chocolate Ganache:
Place chocolate chips in a small bowl and set aside. In a small saucepan, bring cream just to a boil. Pour over chocolate; whisk until smooth.
Cool the ganache, stirring occasionally, until mixture is slightly thickened, about 40 minutes. Pour over cakes using a spoon or you can pipe onto cakes using a ziploc bag with the corner snipped off. Yield: 1-1/4 cups.
Recipe by
Wishes and Dishes
at https://wishesndishes.com/double-peanut-butter-molten-lava-cakes/