Chicken Lazone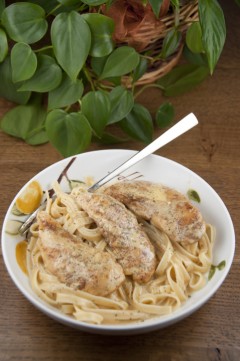 1 teaspoon salt
1 1⁄2 teaspoons chili powder
1 1⁄2 teaspoons onion powder
2 teaspoons garlic powder
¼ tsp cayenne pepper
2 lbs chicken tenders or boneless, skinless breasts (I prefer the tenders)
1⁄4 cup butter, divided
2 cups heavy cream
Combine all of the seasonings and coat chicken on both sides.
In large saute pan/skillet melt half of the butter over medium-high heat and then add the chicken and cook for about 7 to 8 minutes, turning once, or until done.
Pour the cream into the skillet and lower the heat.
Simmer for several minutes, stirring until the sauce thickens (about 5 minutes) then add the remaining butter.
When butter is melted place chicken breasts on the plates on top of mashed potatoes or pasta (whatever you are serving it with) and top all with the creamy sauce.