Mozzarella Stuffed Italian Meatballs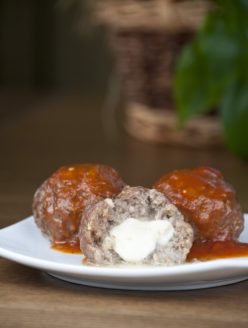 1 pound ground beef
3 cloves garlic, chopped small
¼ cup yellow onion, chopped small
¾ cup of grated Parmesan cheese
1 cup unseasoned breadcrumbs
2 large eggs
Sprinkle top with dried parsley and oregano (I don't measure)
Add dried basil (little more than parsley & oregano)
Sprinkle a little ground black pepper over top
Add a splash of water
12-15 1-inch fresh Mozzarella balls
Preheat oven to 400 degrees F. and grease 9×13-inch baking dish or jelly roll pan with nonstick cooking spray (or use silicone baking mat).
Place all of the ingredients EXCEPT for the mozzarella balls into a large mixing bowl and with clean hands, mix until just combined. Do not overwork the meat or it will make them tough.
With wet hands, take ¼ cup beef mixture, form into a ball, and press into center with your thumb to make room for cheese ball. Place cheese ball in the middle then with hands enclose the cheese with the beef, making sure the cheese is completely covered and evenly in the center. Place meatballs on prepared baking dish and bake for 30 to 32 minutes, or until cooked through*. Some mozzarella cheese may have escaped, but that's OK. They will still taste amazing.
*If adding to a pot of spaghetti sauce, remove from oven at 10-12 minutes and place meatballs into your sauce and allow to cook in sauce until serving time (an hour or so). They will soak up the flavor of the sauce and also flavor the sauce itself. It's very good this way.
Serve over top your favorite pasta or inside a warm roll for delicious meatball sandwiches.
Recipe by
Wishes and Dishes
at https://wishesndishes.com/mozzarella-stuffed-italian-meatballs/